What are easy Southwest decor tips?
By Catalogs Editorial Staff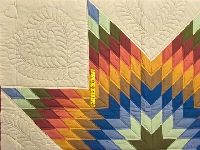 The Southwest provides its own visual tips to home decor
You are thinking about incorporating some Southwestern accents in your home decor, or redecorating with a complete Southwestern theme. Start with some large statement accessories.
Collect items that speak to you and complement your personal style. A collection of earthenware pottery, handpainted tiles, rustic baskets and a large genuine cowhide rug will inspire you to start putting your Southwestern room together. Envision these things combined in the room you decorating. Balance size, textures and function.
The next place to concentrate is paint color. This will help you tie it all together.
Before you continue reading about the What are easy Southwest decor tips? there is a special announcement we would like to share with you. Catalogs.com has negotiated special medicare rates for our vibrant community of seniors. If you are over the age of 60, you can head over to our Seniors Health Section which is full of information about medicare. All you need is your zip code and a few minutes of your time to potentially save 100s of dollars on your medicare bills.
Many paint stores carry southwest colors because they are popular, not to mention beautiful. Begin with rich, vibrant oranges and yellows. Use the colors on the interior walls or on the home's exterior and in your accessories.
Colors
Orange, a strong regional color, is a combination of sunshiny yellow and hot red. An orange space is warm and energetic. Orange is a great starting point if you are sifting through easy Southwest decor tips! Because this color is warm as opposed to cool it is a stimulant. If your kitchen is painted orange, people will eat more and talk more than if the room were painted a calming blue.
~
Orange reminds of us the color of the setting sun, a pumpkin, the hue of the changing leaves in the autumn (which those in the southwest may sorely miss seeing), and the color of fruit.
This part of the country rejoices in the life-giving force of the sun. Use lots of yellow. It can be golden bright or dull mustard. Think of goldenrod, topaz, yellow ocher and saffron.
Indian reds, which are not as bright as primary red, are muted and look rustic and warm. Think of a rusty brick or reds shaded with orange. In this area, the residences are often built out of iron-rich terra cotta, adobe brick and sandstone. Indian red is the perfect color complement to these materials.
When in this part of the country, you are going to see very little grass. You will see lots of cacti and red dirty, but not much green. Because vegetation is so scare it is highly valued. Incorporate sage green, and other shades of green, into your home's interior and exterior. 
The skies in this area are often clear. Look up and you will see a large expanse of blue above.  Use this lovely hue in your decor. It brings to mind water, which is in short supply out west, as well as coolness. 
Branch out and use teals, turquoise and deep, rich purples, long popular colors in this region, derived from the Mexican and Native American influences.
Browns and tans are a part of the natural scenery. Brown can be very light or a lush chestnut, representing the desert as well as rock pigments and formations. Incorporate varying shades of this hue into your decor. 

Other Ideas

Use terra cotta tiles on the floor, the walls, and on the entrance to your home. Place tiles on the kitchen backsplash or in the bathroom.
Purchase six-inch square handmade Mexican tiles crafted in hard-wearing stoneware, featuring a southwestern theme and color. The tiles consist of three-dimensional designs. These tiles can be used as trivets or accent pieces in your kitchen or elsewhere.
Collectible kitchen stoneware/dinnerware fits in perfectly in this neck of the woods and is far more suited for the lifestyle than fine china. It is durable, intricately hand-crafted and has been fired twice at a very high temperature. There are no two pieces precisely alike. When your guests sit down to the dinner table and see the stoneware they will know how close they are to the border. 
Wall Art
Incorporate Giclee prints into your home. Giclee is a buzzword coined by print maker Jack Duganne in 1991. It refers to fine art digital prints made on inkjet printers. Giclee means 'nozzle' in French. The verb 'gicler' refers to spraying, spurting or painting. This is an affordable and lovely way to get the prints you desire for your home and carry out the western theme.  
Even better yet, the prints should depict the southwestern lifestyle. Why not display a print of a dance hall girl hanging out in a saloon or a stagecoach or a print portraying Native Americans?
Popular Savings Offers