What are home swimming pool regulations
By Catalogs Editorial Staff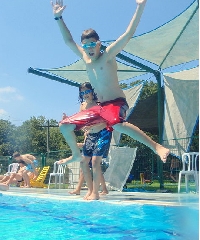 Home swimming pool regulations exist to protect your family and community
Many people dream of having a home with a swimming pool. While visions of endless summers relaxing in a crystal clear pool float through your head, if you're planning to build a pool it's essential to know your local codes.
Swimming pool regulations
vary by state and town, but the most important safety regulations are enforced throughout the United States.
Swimming pool regulations exist for the safety of your family and community. Though the company that does your installation should be familiar with current regulations in your area, you are responsible to ensure that your pool and swimming pool accessories adhere to regulations.
In the United States, non-intentional drowning accounts for more than 1/4 of the deaths in children between the ages of 1-4. Most of the regulations are designed to prevent these accidents from occurring.
Before you continue reading about the What are home swimming pool regulations there is a special announcement we would like to share with you. Catalogs.com has negotiated special medicare rates for our vibrant community of seniors. If you are over the age of 60, you can head over to our Seniors Health Section which is full of information about medicare. All you need is your zip code and a few minutes of your time to potentially save 100s of dollars on your medicare bills.
Swimming Pool Regulations
Approval Required
No matter where you live, you must apply for a building permit and receive approval before construction can begin on your pool. Specifics will vary by town, but most zoning regulations require a minimum distance between the pool and property line, wells and septic tanks.
~
Temporary Enclosure
A temporary fence enclosing the construction site is required while the pool is being constructed. The enclosure must be at least 4 feet high and prevent access from anyone not involved with the installation.
Barrier and Gate
In many states, swimming pool regulations require both inground and above ground pools to have a permanent barrier surrounding the pool once construction is complete. The barrier, or pool safety fence, must be a minimum of 4 feet high with self-closing and self-latching gates. Support posts for fences cannot be more than four feet apart and the lattice or gaps in a chain link fence must not have an opening more than 1 1/4 inch wide. To prevent children from entering the pool area unsupervised, the release mechanism on the fence should be over 54 inches high.
In some states, fences for above ground pools may be mounted on top of the pool structure. Ladders for above grounds must be removable so the pool is not accessible when not supervised.

Pool Alarms
In recent years, a number of states have begun to require pool alarms mounted to all gates and doors leading to the pool site. Pool alarms must be able to detect when a child enters the water and sound an audible alarm. Alarms must be audible poolside and at another location on the premises.
Many states accept the use of power safety covers as an alternative to pool alarms. Swimming pool regulations require safety covers to be able to support the weight of two adults and one child. Rain water that accumulates on top of safety covers must be removed immediately as a child can drown in a few inches of water.
Circulation
Swimming pool regulations get very specific regarding pool hardware and circulation requirements – your pool installation company should be able to recommend options that meet guidelines. In general, two suction outlets are required to create full circulation of pool water. The outlets must have a cover and a drain gate no less than 12? x 12?. The channel drain system and back flow prevention must be approved by local code enforcement.
If you are considering building a swimming pool, contact your local building department for a complete list of rules, regulations and required permits. It may sound like a lot of guidelines, but they?re for your safety and once they?re in place your pool will be a continuous source of activity and relaxation.
References:
Live and Learn: Pools
Department of State: NY Pool Codes
Popular Mechanics: Building a Swimming Pool
Popular Savings Offers