What are Millennials
By Catalogs Editorial Staff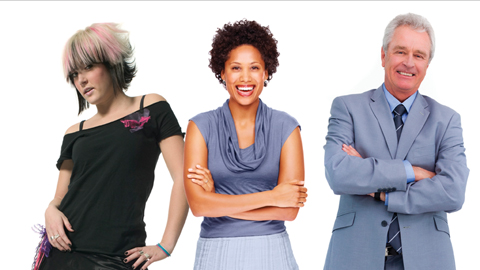 Do you know what are Millennials and where you fit in the generational labels?
Classifying people into generations is popular with advertisers anxious to understand markets. But what about for the rest of us?
I think it's kind of like astrology. Sure, not all Tauruses are the same (although we are clearly the BEST zodiac sign!), but most of us still enjoy reading the profiles of our sign and picking out what describes us.
The same goes for these demographic groups. It's fun to read the descriptions and find out where (or if) we fit with the generalizations. Oh, and one more thing. The dates for each group?  Yeah, they're kind of flexible. Some people say one, some another.
Before you continue reading about the What are Millennials there is a special announcement we would like to share with you. Catalogs.com has negotiated special medicare rates for our vibrant community of seniors. If you are over the age of 60, you can head over to our Seniors Health Section which is full of information about medicare. All you need is your zip code and a few minutes of your time to potentially save 100s of dollars on your medicare bills.
So where do you fit?  And do you fit in your "generation"? Read on and find out!
 
Who are Millennials? (AKA Gen Y)
(1977-2004)
Advertisers and others who used the demographic groups to target messages realized that the division between Gen X and Baby Boomers wasn't all there was. 
~
The term Gen Y was first used in an editorial in Advertising Age magazine, although the term Millennials was later coined to describe their experience growing up around the change of the millennium. It had become clear that a new generation with a whole new set of experiences and expectation had arisen, and marketers wanted to know what made these children of Gen Xer's and later Baby Boomers were different from their parents.  
This is a group who may have never lived in a home without a computer, and probably started using one in preschool. It's the generation of Facebook, MySpace and instant communication.
Unlike the previous generation, Millennials as a group look beyond labels and wealth to find meaning in their lives. They are the ones pushing for work-life balance, flexible work sites and doing something that matters rather than just something that makes money.
This generation may have never used a typewriter, seen a corded phone, or made a call from a phone booth —  they take cell phones, laptops and portable music for granted. (My daughter, born towards the end of this generation, once spent several minutes trying to figure out why the number buttons wouldn't PUSH in on a rotary phone in a museum!)
This generation is picking up the battle for a more just world from the idealist 60's and 70's of the Boomers, leaving some of their more career- and success-focused parents wondering what happened.
This group started entering adulthood listening to Daft Punk, Incubus and Our Lady Peace, and watching movies like Titanic, Men in Black and Jurassic Park. One can only imagine what the latter segment of this group will see and hear at they cross into their grownup days around 2024!
Who is Gen X?
(1960-1976)
Post-war birth rates began to decline in 1957, and by late 1959 the birth rate began its downward dive and quickly plummeted towards pre-WWII levels. Author Douglas Copeland, born in 1961, coined the term Generation X (Gen X) to define his own demographic which didn't fit with the Boomer generation of his parents or elder cousins' life view and experiences.
Gen X'ers came to adulthood in the 1980's and 1990's, when computers were everywhere, women's rights in education and the workplace were a given, and the Boomer's culture of hard work, self-sacrifice and traditional values had been replaced with a "greed is good" mentality.  Business Management was the number one college major (at a rate that was nearly double that for college students only 10 years before) and status and success were the number one goals for their college years and beyond. 
This is the generation that saw the birth of MTV – quite a contrast to the previous generation's experience of Howdy-Dody and the rest of early TV.  We loved labels and judged almost everyone from stars to classmates by the designer name on their jeans, purses and cars.  This is the fist generation to own personal computers, and probably the last to remember floppy disks and green screens.
People at the start of this demographic entered adulthood reading Tom Clancy, Stephen King and Alice Walker, while those towards the end of it came of age along with books by Rebecca Wells, Neil Gaiman and Nicholas Sparks.
Who are the Baby Boomers?
(1943-1959)
Although there are some differences among marketers in placing the exact start and end dates, most demographic experts place the post WWII baby boom from 1943 though 1959 (some cite the beginning of the drop in 1957 as the end. Some marketers push it out to 1964, even though the boom had ended some years before. Some also start the group at 1946.)
According to authors William Strauss and Neil Howe, two researchers best known for studies in the concept of generation and what defines generational membership, the Boomer generation includes those "too young to have any personal memory of World War II, but old enough to remember the postwar American High."
Overall, most agree that Boomers are the last generation to believe in the concept of a life-long career, company loyalty and the lifelong family home. They saw the birth and rise of television entertainment, embraced the idea of tract housing, and believed that they could provide a better life for their children than they had.
Many of the Boomers were affected by the Depression-era experiences of parents, so they tended to value thrift and saving, which is now paying off in more comfortable retirement than later generations are likely to experience. But they also enjoyed the benefits of the post-war thriving economy. During the 1950's, when most Boomers were children, sales of children's products including toys, special baby food, mass-marketed candies, and other kid-focused items soared.
Later Boomers reached adulthood in the turbulent 60's, and used their large numbers and optimistic attitudes to affect changes in the social norms of the country, believing that they could create a better world (the task now being picked up by the Millennials.) 
Baby Boomers now are entering and enjoying retirement in better senior physical health than previous generations, so they continue to remain active in sports, travel, recreation and social events.  No rocking chairs on the porch for many years to come for these people!
Popular Savings Offers