What contributes to a sustainable community?
By Catalogs Editorial Staff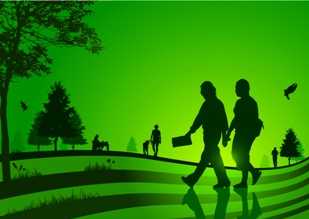 Here are key items contributing to sustainable communities
There are numerous features that characterize a sustainable community.
These include attention to ecological protection, economic equality, density and urban design, village centers, sustainable transport, affordable housing, and sewage and storm water planning. A sustainable community meets the needs of both current and future residents.
It's developed through actions taken by municipal and federal governments, non-profits and community activists. It's grown through education and initiatives learned through workshops, think tanks and action-oriented seminars. There are many ways to create a thriving environment for citizens of all ages.
Before you continue reading about the What contributes to a sustainable community? there is a special announcement we would like to share with you. Catalogs.com has negotiated special medicare rates for our vibrant community of seniors. If you are over the age of 60, you can head over to our Seniors Health Section which is full of information about medicare. All you need is your zip code and a few minutes of your time to potentially save 100s of dollars on your medicare bills.
A community which addresses ecological concerns will have recycling resources, options for solar or wind power, or the development of these technologies in the works. There are grants available from the Department of Housing and Urban Development to encourage sustainable energy use. For instance, the town of East Hampton, N.Y. is exploring the placement of wind turbines off the coast of nearby Block Island in order to meet the energy needs of its community.
~
Another area of focus is clean water for drinking and for recreational purposes. Water quality can be improved through modernized waste removal, control of pollution from businesses, as well as the minimization of pesticides on lawns and gardens. Non-profits can educate people about the danger of excessive pesticide use, and viable alternatives such as ground covers that reduce weeds, etc. The Environmental Protection Agency aims to encourage the reduction of toxic chemical use throughout the United States. It encourages communities to first eliminate waste at its source. The preferred management method is recycling, followed by burning for energy recovery, treating, and as a last resort, disposing of or otherwise releasing the waste into the environment. These waste management steps are elicited in the waste management hierarchy published in the Pollution Prevention Act (PPA) of 1990. Ideally, waste facilities will transition over time away from disposal into the environment, toward these preferred techniques.
The Office of Sustainable Housing and Communities, part of the Department of Housing and Development, offers a Sustainable Housing Initiative. This initiative is aimed at supporting the building and renovating of housing that is environmentally sensitive and affordable. It also works to expand the availability of financing for home energy improvements and multifamily housing. An example of this is in Greenville, South Carolina, where HUD provided a loan to encourage economic growth, especially through the conversion of an old cotton warehouse. Bike paths and public transportation, as well as attention to density, increased the livability and sustainability of the community for area residents.
Economic equality can be addressed through vocational educational programs, affordable housing and incentives that encourage the growth of small businesses. Federal loans can also help promote minority-owned enterprises. The Office of Economic Development (OED) supports HUD-wide efforts to help communities and regions make more cost-effective and coordinated investments that save taxpayer dollars, create jobs, and foster stronger local economies. By using fresh and innovative approaches, the OED helps communities help themselves. As a result, these areas can then support stronger and more diverse economies; increase investments in high-quality buildings and infrastructure; create improved access to jobs, housing, and educational opportunities; and be well prepared for future trends.
Another governmental agency which contributes to overall quality of life is The Partnership for Sustainable Communities, an interagency partnership between the Department of Transportation, the Department of Housing and Urban Development, and the Environmental Protection Agency. These bureaus offer funding initiatives to support communities in their pursuit of clean air and water, community planning, energy efficiency, housing and transportation choices, economic development and social justice.
Following is a description of Northampton County, Virginia, which offers a prime example of small-town and rural sustainable development. As the southernmost county on Virginia's Eastern Shore, it forms the gateway to the Chesapeake Bay.
?The county is rich in natural and cultural assets including beaches, marshes, barrier islands, tidal creeks, woodlands, historic villages, and farms. It includes a diverse habitat for over 260 species of birds and countless other fish and wildlife species. The county also has been one of the poorest in Virginia. This community task force created a Sustainable Development Action Strategy based on the Special Area Management Plan. This strategy targets six industry areas for sustainable development and links each with key asset protection policies. These targets are to develop:
£      The heritage tourism industry while protecting natural and cultural assets.
£      Seafood and aquaculture industries while protecting water quality.
£      New industries, including an eco-industrial park, while protecting sense of place, quality of life, and the groundwater.
£      The agriculture industry while protecting productive land, including sensitive habitats.
£      Arts, crafts, and local product industries while preserving culturally diverse authentic communities.
£      Research and education facilities while protecting natural and cultural systems.
Northampton County has already begun implementing these projects. This initiative has shown some initial success, and the group continues to leverage resources for its project implementation. Additional support and resources have been acquired from the Department of Transportation, the Economic Development Administration, the U.S. Department of Agriculture, the U.S. Fish and Wildlife Service, the Environmental Protection Agency, and industry.?
Source:
Popular Savings Offers