What do iPads do?
By Catalogs Editorial Staff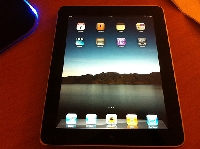 There are lots of answers to what do iPads do, including inspire creativity
So, what do i pads do, you ask? A better question to pose: what don't they do?
From gaming to taking gorgeous, lifelike pictures, the machine is a sight to behold. The third generation of iPad offers upgrades and new technology that helps to set it apart from both its predecessor and the competition.
Below, we'll take a look at its design, capabilities,and fun things you can do with your new purchase. So, read on!
Before you continue reading about the What do iPads do? there is a special announcement we would like to share with you. Catalogs.com has negotiated special medicare rates for our vibrant community of seniors. If you are over the age of 60, you can head over to our Seniors Health Section which is full of information about medicare. All you need is your zip code and a few minutes of your time to potentially save 100s of dollars on your medicare bills.
Initial Thoughts
The first thing you may notice when turning on the machine is the screen.  Namely, the device offers:
A 2048-by-1536 resolution
44 percent better color saturation than its predecessor
3.1 million pixels
For those keeping track, that's 2 million more pixels than your HDTV and four times the pixels which were found in the iPad 2. Now, what does that mean for you?
~
The games you play, the movies you watch, and/or the websites you visit will pop from the screen in such clarity you may think you've died and gone to heaven.
Things to Do
Thanks to the A5X chip with quad-core graphics, a ten hour battery life, and Retina display, everything you do on the machine will look and feel fantastic. So, what can you use it for?
Well:
You can shoot photos — 5-megapixel still images, to be exact
You can record video in high-definition; the automatic video stabilization will help to make your short movies smooth, thus minimizing shaking and bumps during the process
Browsing the web is faster and smoother than before — You'll have 4G LTE speeds at your disposal, available in the United States and Canada
Thanks to these fast speeds, you'll be able to download movies, music, online streaming videos, and more, at the drop of a hat
One can use their iPad as an actual connection hotspot; up to five devices can be connected over Wi-Fi, Bluetooth, or USB. Devices like the iPod touch, a secondary iPad, a MacBook Air, and more, can all be connected
Not unlike Siri for the iPhone, the new iteration of

iPad

offers voice controls when sending an email, text, or even simply searching the web. All you need is to tap the microphone icon on the keyboard and talk — That simple. 
You can "write" faster emails this way and search online in a more compressed manner. Simply say what you want to write or look up and the machine will do the rest. As with anything, though, accuracy can be an issue, so you may be saying the same thing a few times over to make sure it's dictated correctly onto the iPad.
In addition, there are over 225,000 apps for the iPad, from shopping apps to games, to peruse. According to the Apple website, these applications are designed specifically for the iPad, which means they're meant for features like the 9.7-inch screen, Multi-Touch, the gyroscope, the accelerometer, and more.
Many of these apps are free and more are being created every day for users. For musicians, there's GarageBand. For prospective photographers, there's iPhoto. For movie buffs, there's even iMovie. That's three apps right there — Only 224,997 to go. So, you get the picture.
More Features
Not only can you use your device as an eReader to peruse your favorite novels, magazines, comic books, sheet music, and more, but you can use it for both gaming and entertainment. In particular, there's Airplay which can teleport your favorite movies, photos, and music onto your HDTV right in your living room.
You can stream these things wirelessly to your home system with ease. So, there's games, movies, books, magazines, web browsing, photo taking, video recording, and much, much more.
In the end, it may be an easier question to answer what the device can't accomplish as opposed to what it can. So, what do i pads do, you ask? Well, quite a bit. Go out and get one today!
Resources:
Apple.com: Features
CNET.com: Apple iPad
Above photo attributed to Sean MacEntee
Popular Savings Offers