What do you win at rodeo competitions?
By Catalogs Editorial Staff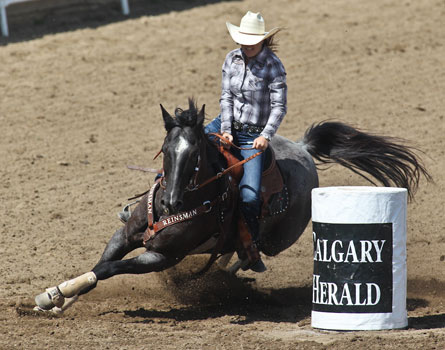 What do you win at rodeo competitions when you're the best?
Riding the rodeo circuits takes a lot more than a strong grip. The best cowboys and cowgirls come from around the world to show off their riding, roping and wrestling skills. The competition is fierce, but if you've got what it takes the rewards are many.
What you win at rodeo competitions depends upon the specific competition. Professional events, those sanctioned by the Professional Rodeo Cowboys Association (PRCA), have prizes that range from a hefty cash payout and prestigious title, to western belt buckles, the respect of your peers and a loyal fan base.
Many competitions that feature multiple events last for several days, sometimes a few weeks. There is a different set of prizes for each round and then another set of prizes for the top scoring competitors in each event. This means competitors have numerous opportunities to take home a prize.
Before you continue reading about the What do you win at rodeo competitions? there is a special announcement we would like to share with you. Catalogs.com has negotiated special medicare rates for our vibrant community of seniors. If you are over the age of 60, you can head over to our Seniors Health Section which is full of information about medicare. All you need is your zip code and a few minutes of your time to potentially save 100s of dollars on your medicare bills.
Riding home with a cash prize is always nice, but it means more than you may think. Every aspect of this sport is competitive, including prize earning. Every year the title of World All-Around Rodeo Champion Cowboy is awarded to the cowboy who earned the most prizes in one year. To stand a fighting chance at this title, you have to regularly compete and go out hard every time.
~
Look at some of the biggest events in the sport to best understand what do you win at rodeo!
National Finals Rodeo
Organized by PRCA, this is considered the premier championship event of the sport in the U.S. It's a 10-day December event where the highest-earning world championship titles are awarded. Featured events include team roping, bareback riding, bull riding and tie-down roping.
Payouts for each round depend upon on the prize pool. Awards increase for every $208,000 in the pool and are divided between the top six in each round. For example, competitors in the 2012 event won over $18,000 for first place, over $14,000 for second and, more than $10,000 for third. Not bad considering these cowboys and cowgirls do what they do so well because they love it.
In fact, the best professional riders earn more than many football, baseball and basketball players do. Trevor Brazile set a record in 2010 earning $507,921 at events.
The American
The American attracts the toughest riders from around the world because it awards the highest cash payouts of any one-day event. Held in Texas, five qualifying events lead up to the semi-finals. In 2014, those with the highest score moved on to the finals, where they then competed to ride home with their share of $2,000,000 cash.
Cheyenne Frontier Days
Fans and riders refer to this one as the ?Daddy of 'em all?. Next to the National Finals Rodeo, this one awards the most prized buckles to competitors and it's been going strong since 1919. Professionals make this an annual highlight on their circuit. Fans come for the chance to see the best compete while sporting classic western style, enjoying live music concerts, western art shows and other festivities.
PBR World Champion
Not to be confused with the Professional Rodeo Cowboys Association, Professional Bull Riders (PBR) is a younger organization that was founded in 1992 by 21 professional bull riders. PBR stages more than 100 events every year and televises many of them. This higher exposure has increased the sports popularity, attracting big sponsorships that result in ever-increasing cash payouts for member riders.
What do you win at rodeo once you're ready for prime time? The total prize pool has exploded from $330,000 in 1994 to more than $11,000,000 in 2008. Actual take-home payouts vary depending on the rider as always.
PBR's main tour is the Built Ford Tough Series, which spans 30 events and includes 35 top riders. Cowboys must stay on a bucking bull for 8 seconds and are scored by only two judges. The winner with the top score after a second round takes home the annual World Champion award bonus of $1,000,000.
No doubt, being a professional rodeo rider is a tough, challenging, thrilling and highly rewarding profession.
Popular Savings Offers