What golf clubs to use and when
By Catalogs Editorial Staff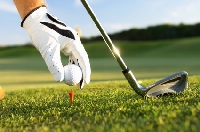 What golf clubs to use and when matters because the clubs do make a difference
Correctly answering the question of what golf clubs to use and when is important for a couple of reasons.
One, the game is hard and sometimes frustrating enough without being handicapped with the wrong clubs. Secondly, good clubs can get expensive. There are few things more demoralizing than dropping a small fortune on a snazzy new club only to find it seems to have an affinity for deep grass.
There are a few steps, thoughts and considerations that will help you determine what golf clubs to use. With that said, recognize that what?s right for you is likely not right for your playing partner, me, the postman or Tiger Woods. Though, if you wouldn?t mind giving him a hand that?d be great; Lord knows he can use all the help he can get and frankly, it?s getting painful to watch.
Before you continue reading about the What golf clubs to use and when there is a special announcement we would like to share with you. Catalogs.com has negotiated special medicare rates for our vibrant community of seniors. If you are over the age of 60, you can head over to our Seniors Health Section which is full of information about medicare. All you need is your zip code and a few minutes of your time to potentially save 100s of dollars on your medicare bills.
Considerations
Beginners
Know your game. As a beginner, keep it simple and don?t worry about custom fitting your irons or the loft of your fairway wood. Get a few basic clubs that feel about right in weight and height.  Two or 3 woods, maybe a 5, 7 and 9 iron with a putter and you?re good to go. Once you?ve played a bit spending the time and money deciding on what golf clubs are suited to you will make a lot more sense.
Advanced
For advanced players you already know what golf clubs you need so no offense, but you?re on your own.
~
Intermediate
Intermediate players, which make up the vast majority of golfers around, need to consider a couple additional things when deciding what golf clubs to use. In addition to the proper height when addressing the ball (a no brainer) and club weight, focus on clubs that provide as much forgiveness as possible. Stiff shafts and smaller club heads are fine for the pros, but clubs that won?t punish you as badly for a missed shot will make the game a lot more enjoyable. That means clubs with a more flexible shaft.
Whichever clubs you settle on Mr. or Mrs. Intermediate Golfer; take them in to have them custom fit and measured for angle. Even new clubs are not always angled properly; in fact they?re probably not. Using a 4 iron that acts like a 7 iron can kill your game. Custom fitting your irons will also determine what woods are needed; the days of carrying the mandatory 3 woods in your bag are over. You may be fine with just a driver and a fairway or hybrid club.
As a rule, when deciding what golf clubs belong in your bag, fewer are better. Trying to master 10 irons, 3-4 woods and the dreaded putter is bordering on certifiably insane. Don?t leave yourself stranded on the course without the proper equipment, but paring it down and focusing on those you really need will improve your game that much quicker.
Getting a big, fat driver will help the intermediate player, up to a point. Once you get beyond about 450 cubic centimeters you?re just wasting time and money. That?s already about twice the size of the original Big Bertha; anything over 450 cc?s is actually more difficult to strike cleanly. You?ll hit the ball longer, unfortunately too often that will be longer into the woods.
Getting out and playing this beautiful game is the number one key to improving. Knowing what golf clubs to use and when — and how to select them — is a close #2, and will also save you time and money.
Popular Savings Offers