What Happened to the ABC Distributing Catalog, Is It Still Available?
By Catalogs Editorial Staff
ABC Distributing is an American family-owned business founded in 1957. This company had its ABC Distributing Catalog for over 50 years. But, this company is now a general merchandise wholesale distributor. ABC Distributing operates out of a warehouse in Bannockburn, Illinois. They maintain a remarkable commitment to sustainability, incorporating green practices into its shipping, marketing, packaging, and catalog production processes. They are heavily involved in giving back to the community and pride themselves on their recycling and conservation programs. ABC Distributing contributes to the Strike Out Cancer Foundation, the LifeSource March, the Aurora Hesed House, Inc., the Salvation Army, and St. Martin De Porres High School.
Can I order an ABC Distributing Catalog?
The ABC Distributing catalog was a great mail-order catalog. They offered home decorations, candles, poly-resin figurines, knives, toys, tools, collectibles, flags, blankets, and much more. They sold home goods, apparel and beauty products, and even toys and sports items. Their toys and games included puzzles, baby items, art and craft supplies, dolls, and accessories.
ABC Distributing Catalog Transition
Unfortunately, you may have become frustrated trying to find a current issue of the ABC Distributing catalog. Are you wondering what happened to this catalog? Well, the ABC Distributing catalog is now owned by LTD Commodities. LTD Commodities has been around for over 50 years and just like ABC Distributing, LTD Commodities is dedicated to their customers. They offer exceptional service, quality products, and outstanding prices.
Before you continue reading about the What Happened to the ABC Distributing Catalog, Is It Still Available? there is a special announcement we would like to share with you. Catalogs.com has negotiated special medicare rates for our vibrant community of seniors. If you are over the age of 60, you can head over to our Seniors Health Section which is full of information about medicare. All you need is your zip code and a few minutes of your time to potentially save 100s of dollars on your medicare bills.
Even though ABC Distributing is no longer offering an online catalog, all the products you love are still available. When you put in for an ABC Distributing catalog request, you'll likely reach the LTD Commodities catalog and similar catalogs below.
We all miss ABC Distributing's home goods and knick-knacks. But, although ABC Distributing catalogs no longer available, we can still help you find those great deals!
Despite the company no longer having a catalog, many people still search for the ABC Distributing catalog. So, our catalogs.com staff has chosen some of their favorite home goods and gift catalogs for you to browse.
What are catalogs similar to the ABC Distributing Catalog?
We can certainly understand ABC Distributing Catalog customers' loyalty and their appreciation of this family business. Many catalog shoppers certainly miss the great ABC Distributing experience.
Want to explore more catalogs like ABC Distributing? Don't worry, we have you covered! We at Catalogs.com would like to suggest several other exceptional catalogs for your home and apparel needs.
Here are our top picks:
1. LTD Commodities
If you loved ABC Distributing, then you will LOVE LTD Commodities! LTD Commodities offers the same home decor, clothing, and accessories, toys, and gifts, as ABC Distributing. They even offer LTD exclusives!
From holiday decor and everyday household items to personalized gifts, you can count on the LTD Commodities catalog to bring you the same great products for the same value. We're sure you'll love what they have to offer.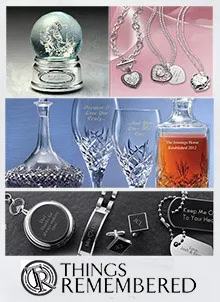 2. Things Remembered
ABC Distributing offered exceptional gift ideas for that special person in your life. Well, Things Remembered personalizes gifts to make them even more special. This catalog features jewelry, timepieces, stem wear and even offers rare trinkets and individual keepsakes. Not only will these gifts stand out, but the recipient will have a memento to always remember you by. Give a personalized gift to that special someone who has everything. Watch their eyes light up in joy as these items can be enjoyed in the moment and for a lifetime.
3. Collection's Etc.
Like ABC Distributing, Collections Etc. brings you a wide range of gifts and collectibles such as home decor, apparel, garden accents, and more unique gift ideas. These items will give your home just as much joy as ABC Distributing did! Browse through these gifts and make sure you consider upcoming holidays.
Shop for "things you didn't know existed," senior living items, "the lighter side." Take some time to flip through these delightful items and you may even discover useful items you didn't know you needed. This is the go-to catalog for perusing neat and unusual items. The eccentricity of Collections Etc. allows you to dive into worlds unknown and learn a little bit more about what's out there.
4. Expressions
Be yourself, be bold, be different. The Expressions catalog gives you the power to be the fabulous, unique person you are. Thumb through this beautiful catalog and you're bound to find specific pieces tailored to you. Search through home decor, apparel, collectibles, and more.
These carefully selected accent pieces and clothing are sure to spark a conversation with your house guests. Or, show off your new outfit while out on the town. Indulge in your individuality when selecting items you just can't live without. Just like the ABC Distributing catalog, Expressions will allow you to select the very item that speaks to you. Take the time to search through this catalog and you'll feel joy just in doing so.
5. Talbots
Remember how ABC Distributing kept you looking great season after season and year after year?
Like ABC Distributing, Talbots offers timeless women's clothing, shoes, and accessories for every size and taste. The Talbots catalog is a leading retailer and direct marketer of women's classic apparel, shoes, and accessories. They are known for providing gracious service (another thing we loved about ABC Distributing!). Their quality selection of timeless wardrobe essentials come in all sizes.
6. Young Explorers
If you loved ABC Distributing's toys and games, then you will LOVE Young Explorers! Young Explorers offers imaginative and creative options for kids up to 10+. Young Explorers provides science experiments, outdoor games, puzzles, and toys exclusively for boys or girls. Let your grandkids' minds explore the world through fun, exciting games, and toys.
From classic and retro toys to toys that make you sing and dance, these toys are not only educational, but they are loads of fun! Count on Young Explorers to grow the minds of your little ones.
Popular Savings Offers
Don't see what you are looking for?
This should give you some great options in place of the forever missed ABC Distributing catalog, but if you don't see what you are looking for, you can browse hundreds of catalogs at
Catalogs.com
.