What Happened to the Old Pueblo Traders Catalog, Can I Still Order It?
By Catalogs Editorial Staff
Old Pueblo Traders was founded in 1950 by Leon Steinberg in Tucson, AZ. Since then it has changed hands numerous times. As of December 2020, the Old Pueblo Traders Catalog is no longer available. This company is now under Blair, which owns a variety of sister catalogs listed below.
Old Pueblo Traders Timeline
1975 – Arizona Mail Order Inc. purchased Old Pueblo Traders from Mr. Steinberg and his family.
1998 – Fingerhut Cos. Inc. bought Arizona Mail Order Inc. from Paul Baker and Don Diamond.
1999 – Macy's and Bloomingdale's (then Federated Department Stores), acquired Fingerhut.
2002 – JPMorgan Partners purchased and changed the name to Crosstown Traders.
2005 – Charming Shoppes Inc. purchased Crosstown Traders.
2008 – Orchard Brands, a Massachusetts-based company, acquired Crosstown Traders and their 976 employees. Unfortunately, a year later, they closed a call center and distribution center. This resulted in a lay off of nearly 400 workers.
2020 – Old Pueblo Traders shut down and only offers catalogs through Appleseed's, Blair, Old Pueblo Traders, and Drapers as part of Bluestem Brands.
Can I order an Old Pueblo Traders Catalog?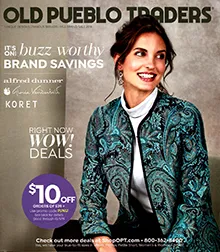 Well, sort of. The Old Pueblo Traders Catalog is no longer available, but a new version is and it is owned by Blair. So, although it is no longer in print, you can sign up at Catalogs.com and view the same apparel and gifts you love in a PDF catalog. Check out the Old Pueblo link to gain insight into coupon codes and discounted or free shipping! Blair offers quality, comfortable clothing and honest value for the young at heart. Some of the other brands offered by Blair include Drapers & Diamond's, a brand that celebrates classic style with modern inspirations and chic details. Another brand under this company is Appleseed's. Appleseed's offers classic tailored styles with comfort, ease, and a polished look.
While we all miss Old Pueblo Trader's dresses, apparel, and specialty gifts, we've found some similar catalogs that can offer just what you're looking for. Check out the catalogs below for some great deals!
Where can I find similar catalogs to Old Pueblo Traders?
As demonstrated by the buying and selling of Old Pueblo Traders, this company is a hot item! We appreciate and understand why you would miss such a distinct and unique catalog. Many catalog shoppers certainly miss the great Old Pueblo experience. However, we at Catalogs.com would like to suggest several other exceptional catalogs to help you through this frustration.
Before you continue reading about the What Happened to the Old Pueblo Traders Catalog, Can I Still Order It? there is a special announcement we would like to share with you. Catalogs.com has negotiated special medicare rates for our vibrant community of seniors. If you are over the age of 60, you can head over to our Seniors Health Section which is full of information about medicare. All you need is your zip code and a few minutes of your time to potentially save 100s of dollars on your medicare bills.
Here are our top picks: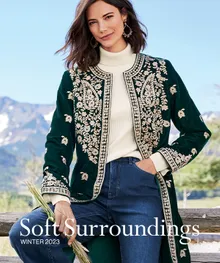 1. Soft Surroundings
If you loved Old Pueblo Traders dresses, then you will love Soft Surroundings! The Soft Surroundings Catalog offers casual "at home" clothing with comfort in mind. Imagine smooth, soft fabrics that range from so soft, heavenly soft, or ultimate softness. Check out special offers like 25% off your first full-price purchase with no minimum.
Be comfortable wherever you are in these incredible fabrics. Whether you're on the beach or sitting outdoors eating on a patio, you'll find style and comfort in Soft Surroundings.
2. NorthStyle
NorthStyle is a women's online clothing catalog that features so much more than irresistible fashions. Shop with NorthStyle catalogs for gifts, apparel, accessories, and collectibles with an accent on the great outdoors. Exceptional clothing, nightgowns, exquisite jewelry, fine gifts, and collectibles with plenty of NorthStyle!
Enjoy coupons such as "save up to 60% OFF," and enjoy comfortable, relaxed clothing while enjoying the beautiful seasons. NorthStyle is your go-to catalog for boat rides, visiting friends for lunch, or just for lounging and relaxing. Pick out a fun nightgown and curl up on the couch to catch up on your favorite TV series.
3. Michael Stars
Love summer? Just like the Old Pueblo Traders catalog had, Michael Stars knows how to dress for all seasons. But, hot summers require a little extra planning to ensure you focus on the right fabrics for the right occasion. Going to a family barbecue? Check out the Cotton Double Gauze, which is Michael Stars' hottest fabric. Based out of LA, they understand the need for fashion in hot weather. Search through breezy sundresses and tank tops to find your ideal summer fashion. Look to jumpsuits to spruce up your cocktail party, or indulge in their beautiful loungewear in your own favorite outdoor space. Whatever you're searching for, Michael Stars has it waiting for you. Become a Michael stars VIP and take 15% off your first order!
4. Coldwater Creek
Coldwater Creek is a timeless women's apparel catalog and retail store. This company has everything you need for outdoor picnics, casual lunch with friends, or even a day of shopping with the girls. You can't go wrong with their jackets and sweaters that seem to compliment entire selections of outfits. Looking for a hat or jewelry to compliment your new dress or blouse and slacks? Look no further. Coldwater Creek has your style in mind when they carefully select their upcoming line of clothing. Be comfortable and look the part with Coldwater Creek apparel.
5. Boston Proper
Looking to be whisked away to a tropical island and need something to wear? Well, just like Old Pueblo Traders had a unique style for every shopper, so does Boston Proper. Take a vacation (even if it's a mental vacation) and dress the part! From bright fabrics to little black dresses, Boston Proper is ready to suit you up for a great time. Take it to the max in their stylish maxi dresses under $100. Scroll through their active, sexy, and even comfortable sleepwear. You can't go wrong with this delightful catalog.
6. Chadwicks
Looking for the same conservative looks of Old Pueblo Traders? Well, Chadwick's is a great option. This company offers women's wear, business attire, and casual clothes. Here you'll find classic looks that fit with just about anything you already have or are looking to add to your collection. Modest looks and color schemes perfect for work, yet relaxed enough to dress down as well. Different jean colors, skirts with patterns, tank tops, light sweaters, you name it! Summer deals will give you a fresh and updated look without breaking the bank. Pair leggings with a wide array of fashion tops, or add a pair of sneakers to complete your active look. Chadwick's knows how to pair comfort and style to complete your look.
Popular Savings Offers
Don't see what you are looking for?
This should give you some great options in place of the wonderful Old Pueblo Traders catalog, but if you don't see what you are looking for, you can browse hundreds of other catalogs at
Catalogs.com
.