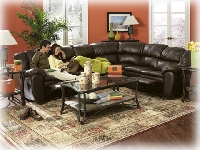 Before you invest in home furniture, read these important tips
If you are in the market for new furniture, your best bet is to seek out a retail location, furniture gallery, boutique, or online furniture company that specifically advertises a complete furniture collection. A furniture collection is a complete selection of furnishings that are designed to be a part of a coordinated collection. 
Browsing stores that offer complete furniture collections will make shopping so much easier. This is because furnishings in a furniture collection are thematically and stylistically coordinated. The sizes match, the scale matches, and the complete collection offers a wide selection of all the pieces you might need. Ultimately, this will save you time, money and the aggravation of patronizing multiple furniture stores in search of unique, matching items. 
Typically, comprehensive furniture collections are only offered at high-end furniture stores. These prominent retail locations may carry collections such as the Ernest Hemingway collection and the Tommy Bahama collection. The Ty Pennington Collection is one example of a mid-price furniture line that has gained recent popularity, based upon a TV personality's marketing power and sense of consumer-friendly style. 
Next to homes and cars, furniture is the third most expensive purchase that Americans make.  However, few people take the time to fully research the furniture they select before pulling out their wallets. When it comes to buying furniture, make a point of focusing on complete lines, or brand name furniture collections.
Whether you are perusing bedroom furniture collections, living room sets, or patio furnishings, there are some additional tips that every consumer should know.
~
Decide on a Collection Theme and Style That Suits Your Lifestyle and Home:
There are important factors to consider before you opt for any pieces from a specific furniture collection. Consider the size of your home, scale and ceiling height of the rooms. Take plenty of measurements for any areas of the home that you wish to furnish.  It may help you to draw out a rough blueprint of rooms you are seeking to furnish. Consider the decor, wall color, wood finishes,  and architectural style of your home before you select a finish, or opt for cherry, oak or walnut. Do you prefer contemporary, classical, tropical or french country themes?
Bedroom Sets and Dining Room Sets
If you are purchasing bedroom sets, dining room sets, or even living room sets from complete furniture collections, inspect each piece closely to ensure that the sizes, heights and proportions of all the pieces correspond. Pull out the draws and inspect the interiors. Rough drawer interiors are typically an indication of a lower furniture quality. Do the drawers slide in and out smoothly? If drawers are tilted, or stick easily, re-think your purchase. Check underneath the furniture to inspect the wood quality and compare the veneers to make sure they match.  
Ask About the Warranty
High quality furniture including as beds, sofas, reclining chairs or tables should at least be backed by a one-year warranty that covers splitting and cracking of wood, or replacement for movable parts. Quality sofas should be covered by five year warranty on the frame, spring system, or even the cushions and upholstery. If the furniture you are considering purchasing does not come with a warranty, be skeptical!  

Wooden Frames Should be Kiln-Dried
If you are considering purchasing sofas, arm chairs, reclining chairs or any variety of outdoor lawn and patio furniture constructed with wooden frames, be sure to inquire as to whether the frame is hardwood, and if it is kiln-dried. Kiln-dried wood frames are far more durable because the moisture has been removed from the wood. Thus, kiln-dried frames will not crack, warp or weaken as a result of changes in the weather or humidity levels.

Purchase the Repair and Touch-Up Kits
Regardless of how careful you are with your furniture, there may inevitably come a day when it gets chipped, cracked, or broken in some way. Spending a few extra dollars to buy the repair kit or touch up paint when you make your furniture purchase may save you considerable time and expense down the road.