What is a traditional Christmas dinner?
By Catalogs Editorial Staff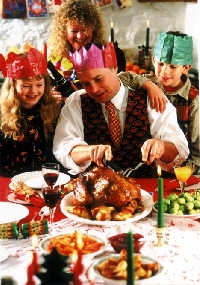 Certain foods are served at the traditional Christmas dinner
Every family has its own holiday traditions, particularly Christmas traditions. However, for many there are certain foods that are always prepared and served at the main meal served on Christmas Day. These foods comprise the traditional Christmas dinner. So what exactly is a traditional Christmas dinner? Read on and find out.
The main course at a traditional Christmas dinner is more times than not ham. Turkey occasionally makes an appearance but isn?t quite as popular at this holiday as it is at Thanksgiving. Some opt for goose.
A sweet ham that is either boneless or bone-in, spirally sliced and fully cooked can be ordered online, which eliminates a lot of the work for you. Stick it in the oven and warm it up right before the Christmas feast or serve as it. Honey-glazed hams possess a mild, sweet flavor. They are delicious!
Before you continue reading about the What is a traditional Christmas dinner? there is a special announcement we would like to share with you. Catalogs.com has negotiated special medicare rates for our vibrant community of seniors. If you are over the age of 60, you can head over to our Seniors Health Section which is full of information about medicare. All you need is your zip code and a few minutes of your time to potentially save 100s of dollars on your medicare bills.
Mashed potatoes or escalloped potatoes are often among the selection of eats at the Christmas dinner, as are green beans cooked with bacon. Also on the table are crudit?s such as raw carrots, celery, cauliflower and broccoli, served with a scrumptious dip.
~
Cranberries generally pop up at the Christmas dinner in various forms include molded salads. Pair the cranberries with celery, marshmallows and nuts and add all ingredients to a gelatin mixture.   
Don?t forget the fluffy, melt-in-your mouth dinner rolls that you can make from scratch if you are energetic or purchase at the grocery store. Pop them into the oven for a few minutes and voila. Coat the dinner rolls with butter, of course. This is no time to watch weight. That can be the New Year?s Resolution.
Mincemeat pie is also associated with Christmas. This pie originated in Britain. It is also referred to as Christmas pie, shrid pie and mutton pie. It consists of various fruits and cinnamon, nutmeg, cloves and minced meat. 
Christmas pudding is another item that is traditionally served. It is sometimes referred to as plum duff or plum pudding. The pudding is made by incorporating suet, which is raw mutton or beef fat with various sweet spices, dark sugar and black treacle, which is molasses. It is cooked and then moistened with brandy or citrus fruits.
Whip up a batch of eggnog, which is often drunk at winter celebrations because it warms you. Eggnog is made of milk, sugar, cream, eggs that are beaten, which creates a frothy texture and liquid, including brandy or whiskey, moonshine or rum. Sprinkle with nutmeg or cinnamon.
Traditional fruitcake is an iffy proposition. Some people love it while others can?t abide it. However, it is very much associated with the Christmas holidays. It is made of dried nuts, fruits, spices, chopped candied fruit and is sometimes soaked in booze.
Christmas cookies are as crucial as turkey at Thanksgiving. Your guests will nibble cookies, brownies, fudge and other bakery specialties before and after the traditional Christmas dinner and maybe even during.
If your dining room table is big enough, the entire family can convene at the table and shoot the breeze while chowing down. If you require extra eating space and seating, drag out the card tables, cover them with a festive table cloth and let the children (or those adults who choose to) sit in the living room or family room or wherever there is ample space. The Christmas dinner doesn?t have to be a formal occasion and rarely is when there are small children around who are cranked up over the holiday and the gifts they just received.   
Popular Savings Offers
Traditionally, the Christmas dinner is served either at mid-day or early in the afternoon.The Gardener's Workshop
FREE CATALOG
vineyard vines
Free Catalog
TomTom Automotive
Get Catalog and Special Offer
Sierra Shoes etc
Free Shipping
4Wheel Parts
Free Shipping
Target Garden & Patio
Free Catalog
Michael Stars
Free Catalog
Medicare Consumer
Request Info