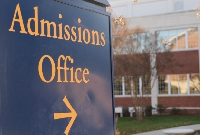 Early college admission has both pros and cons so consider options carefully
Applying to college is overwhelming for high-school students. There are numerous decisions to make and lots of paperwork to do. Some aspects of the process are difficult to understand, particularly for young people who have never done this before. For example, what is early college admission?
This means the student applies to college early in his senior year rather than later. Early applications are sent in prior to November 1, the early admission deadline, during the student's senior year in high school. Regular college applications are generally sent in two months later.
Advantages
If accepted, the benefit to the student is not spending the majority of his senior year fretting over whether he's been accepted into college. He already knows and can relax.
~

The advantage to the university is locking in students, which enables the college to estimate the size of the incoming class quite accurately.
Applying early increases the student's chance of getting into college. The acceptance rate is usually higher among early applicants than regular (later) applicants.The early approach is considered an effectual admissions tactic, although it is not used as often as it could be.
Early applicants aren't necessarily the top students in high school. Some early applicants actually have lower SAT scores and grade point averages than those who apply the regular way.
The early decision round is more pardoning than the regular round of college admission. Why? University are contending for students. Accepting students early guarantees the student is part of the university's incoming freshman class.

Disadvantage
The drawback of early admission is that it is binding. You absolutely agree to go to the school and cannot change your mind. If offered a financial-aid package, you are committed to it and cannot negotiate for a better deal.
The student may have to make his decision before knowing precisely what the financial aid amounts to. He is not allowed to break the deal if the school is unable to come up with enough financial aid.
Rules
A high school student is expected to submit only ONE application on the early decision basis, but the student is free to apply to other universities via the regular application deadline. However, if accepted for early admission the student must pull out all other applications and turn down admission if accepted elsewhere.
Reasons not to go the early route …
Some students opt not to apply early because they think grades they earn later in their senior year will enhance their college application, giving them a better of shot of being admitted to the college of their choice.

Early action
Another approach to applying is called 'early action,' comparable to early decision but not as obligatory. The student is not committed to attending the college if admitted and can apply to other schools.

Should you do it?
Do not go the early college admission route if you are not 100 percent certain you want to attend this school. This is a binding decision and you cannot change your mind once you are accepted.
Some universities, including the University of Virginia and Harvard, no longer offer early decision because they believed it gave wealthy students an inequitable advantage. The middle- or lower class student who is accepted early is not able to compare financial offers from other colleges because he is committed.
There are both pros and cons to early admission. Discuss options with parents and school counselors. Weigh the advantages and disadvantages and then decide if this is the way you want to proceed.