What is flair bartending?
By Catalogs Editorial Staff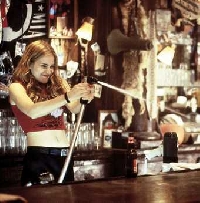 Flair bartending equals one part bartender and two parts juggler-entertainer
An excellent way for a bar to entice costumers, keep selling booze and making money is to employ a bartender who has finesse and keeps the customers entertained, while also promptly delivering their orders. This is flair bartending.

Flair bartending entails putting on a show for the customers. This can include manipulating the bar tools such as the cocktail shakers and the liquor bottles, bedazzling patrons with bartending skills that extend far beyond knowledge about liquor.

A flair bartender is sometimes compared to a juggler because he often juggles bottles as well as spins them. A flair bartender doesn?t just serve drinks, he or she does it in such a way that it?s memorable and a joy to watch. It?s entertainment!

Before you continue reading about the What is flair bartending? there is a special announcement we would like to share with you. Catalogs.com has negotiated special medicare rates for our vibrant community of seniors. If you are over the age of 60, you can head over to our Seniors Health Section which is full of information about medicare. All you need is your zip code and a few minutes of your time to potentially save 100s of dollars on your medicare bills.

Bartenders with flair are performers, and the area behind the bar counter is their stage. They mesmerize the patrons, who are apt to come back, and spend more money, because the bartender?s performance is that good.

Even at home, the host can entertain guests by adding a little "flair" to serving drinks, with fancy barware, classic martini shakers, pourers and chilling bowls.

Have you ever seen the movie Coyote Ugly or the TV show where women try out to work at this establishment? These women not only have to dance on wet bar tops but they are required to be top notch bartenders and that means they know how to make every kind of drink possible and they also know how to do it quickly and with panache. 

~

In addition to being able to put on a show, a good bartender knows his booze and how to mix it. He is capable of handling several customers at once and not get their orders mixed up and he always, but always, acknowledges the customers at the bar. A friendly bartender is far better than one who looks like he wishes he was elsewhere and is counting the minutes until he is.

Bartenders working in a busy establishment have to know how to speed pour, which allows more customers to be served faster and this means more money for the establishment. The bartender must  arrange his ?equipment," the glasses, bottles, etc. in a way that minimizes the amount of time he has to spend filling an order. Bartenders use speed pourers in the bottles which makes the flow of the liquid more efficient and prevents splashes and spills. Additionally, it gives the bartender more control over the amount of booze that is poured.

A bartender isn?t only a drink maker and server, but he?s often the first person that the customers meet when entering an establishment and before they are seated at a table. If the bartender makes a dreadful impression that is strike one. The bartender is representative of the place she is working. If the bartender is lousy, grumpy, gives sub-par service this reflects poorly on the business and the customers won?t return.

All guests should be treated nicely. A bartender should never engage in under-pouring drinks, over-charging or short-changing customers.

If a bartender has some tricks up his sleeve and can put on a show that leaves the guests at the bar gaping in amazement, all the better. Giving the costumers the old razzle dazzle will keep them coming back, which is going to make the bar owner very happy.

If you?re capable of jumping on top of the bar and dancing to The Devil Went Down to Georgia, even better yet!
Popular Savings Offers