What is social networking?
By Catalogs Editorial Staff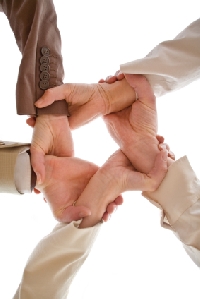 Find out how to use social networking to make friends and network.
Do you have a MySpace page? How about Facebook? Ever used Digg or del.icio.us to mark and share web sites? Do you have a profile at Classmates or Reunion.com? If you answered yes to any of the above, then you're already part of the wonderful world of social networking. If you have no idea what I'm talking about, you're probably thinking, What is social networking?
What Social Networking Is
Social networking is a way to get connected and stay connected online. It's a way to find people with like interests and share information about yourself. They introduce you to their contacts, and you do the same. Social networking can be used to make personal connections, and it can also be a valuable tool for business.
How Social-Networking Sites Work
First you set up a profile. This is a page with information about yourself. You can choose to share as much or as little about yourself as you want, from where you live, your marital status and your religion to hobbies, favorite movies and other interests. Most sites give you the option of keeping your profile private; that way only people you invite (usually through e-mail) can view it. Or you can choose to make your profile public, and then others looking for like-minded people will be able to find you.
Most social-networking sites make use of a friends list. This is a list of other users you like, with links to their profiles. Usually both people have to agree to be friends before their names will show up on each other's lists.
On some social networking sites you have a home page. This is where you can blog, share links and even upload photos and videos. This is where other people can leave comments and let you know what they think.
Many social-networking sites also allow you to get in touch with other users through private messaging, chat or e-mail. Don't worry, though, there are privacy precautions, and you always have control over how much and what kind of information people can access.
~
Social Networking Web Sites
MySpace and Facebook are general social networking sites. There are also specialized sites such as Classmates and Reunion.com, where you can get in touch with former school chums. There are also sites where you can connect based on your musical tastes, your political views, or your favorite movies. I use Shelfari and GoodReads to connect with fellow book lovers. There are also sites like Digg, StumbleUpon, and del.icio.us that are specifically for sharing and rating web pages.
Popular Savings Offers
Before you continue reading about the What is social networking? there is a special announcement we would like to share with you. Catalogs.com has negotiated special medicare rates for our vibrant community of seniors. If you are over the age of 60, you can head over to our Seniors Health Section which is full of information about medicare. All you need is your zip code and a few minutes of your time to potentially save 100s of dollars on your medicare bills.