What is West Coast style fashion?
By Catalogs Editorial Staff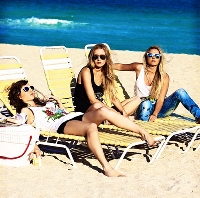 Find out what West Coast style fashion is and how to add it to your wardrobe
The West Coast is known for its laid-back style, but it?s not always clear how that translates in fashion. Visit Los Angeles or San Francisco, or stop in some of the towns like Santa Cruz dotting the coastal highway and you?ll see a vast spectrum of interpretations. You'll also find the same buttoned-up preppy looks, tee shirt and jeans and comfortable sweat pants people wear across the country.
So what is West Coast style fashion? If you?re moving there or planning a visit and wondering how to dress like a local, relax. The main commonality is personal expression. People dress for themselves.
Say ?Yes? to color
Before you continue reading about the What is West Coast style fashion? there is a special announcement we would like to share with you. Catalogs.com has negotiated special medicare rates for our vibrant community of seniors. If you are over the age of 60, you can head over to our Seniors Health Section which is full of information about medicare. All you need is your zip code and a few minutes of your time to potentially save 100s of dollars on your medicare bills.
That said, tastes are generally bold and experimental with a preference for comfort ? flip-flops and shorts are more popular than sky-high heels and slacks. And when it comes to color, turn up the volume to maximum. If you tend to reach for blacks, greys or neutrals, consider stepping outside of your comfort zone in neon.
To wear neon and other bright colors with confidence, choose styles that flatter your shape in soft, breezy fabrics that feel fantastic in warm weather. Pair a loose orange top with patterned black and white shorts or try a comfortable dress in a vibrant floral pattern and funky sandals.!
~
Look back
As you begin discovering what is West Coast style fashion, note that there is no hard definition. Ocean air and palm trees inspire people to loosen up a lot. It?s normal to want to fit in, especially in a professional environment, but you still want to look and feel like you, a casually cool you.
Go to a music show or restaurant where locals hang out and you?ll see that most people have a strong sense of personal style. They know what they like and where it with ease. In other words, dress for yourself whether that?s shorts and graphic tees, flowery dresses or button downs and chinos.  Look back on your favorite pieces and work those styles into your West Coast wardrobe.
When in doubt, choose your muse
If you really want to step up your fashion, model your choices after someone whose style you admire. Celebrities have professional stylists to help them, so let them help you, too. Before you go shopping in California, Google pictures or flip through local magazines of what your style muse wears. Kate Hudson, Adam Levine and Emma Watson are a few celebs with consistently good taste. 
With touches of common sense
No matter how much you love chunky wool sweaters, they?re obviously a terrible choice for southern California. Swap them for thin layers and more versatile hoodies because it does get chilly sometimes. Save your boots for trips back east and see why Californians love their huaraches (leather sandals). 
Worry less
Finding the answer to what is West Coast style fashion is a personal journey for transplants. The wonderful thing is that this region celebrates personal expression so you don?t need to worry. You?re bound to feel overdressed at first and have a few embarrassingly underdressed moments ? as in flip-flops to a business meeting – it?s not a big deal.
Matching colors and patterns is more of a Midwest tendency, so feel free to mix it up. Since it can get extremely warm, try on loose, but structured pieces for more formal environments. A loose blouse with a pencil skirt or fitted woven top with loose pants is a good place to start.
Use your time on the West Coast to dig deeper into your personal style. Play with different styles and patterns. Keep accessories to a minimum. Most importantly, wear what you like
Popular Savings Offers