What it takes to restore a classic car
By Catalogs Editorial Staff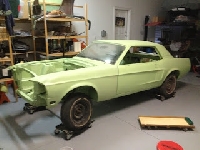 Restoring a classic car doesn't have to drive you and your family crazy
Unless you own a time machine or are incredibly rich or lucky, getting a classic car in brand new condition is a tailpipe dream. The next best thing is to find and restore a classic car to mint condition, or at least to a condition where you like it and it's safe and fun to drive. Before you run down to the nearest junkyard to start digging for a buried soon-to-be-treasure, it pays to take a few minutes to decide if you have what it takes to restore a classic car.
First, decide on your definition of "classic car." For most of us, it's the American muscle cars of the 50s, 60s and early 70s like Chevys and Impalas, but for you it could mean a favorite foreign car or an earlier American model that's more antique. Spend some time on the Internet searching for what kinds of restore-able cars are available in your price range, where they are located and where you can find car parts for that Impala – or other treasure. Car clubs usually have this information on their web sites, along with success stories and tips from people who have already restored your classic.
Once you've found a car, inspect it in person or ask for pictures and talk to the owner. Find out if it still runs, what components aren't working, where there is rust and what is the history of the car. Once you've done an extensive inspection and inventory, step back and determine if you can handle the restoration.
Before you continue reading about the What it takes to restore a classic car there is a special announcement we would like to share with you. Catalogs.com has negotiated special medicare rates for our vibrant community of seniors. If you are over the age of 60, you can head over to our Seniors Health Section which is full of information about medicare. All you need is your zip code and a few minutes of your time to potentially save 100s of dollars on your medicare bills.
Ask yourself some questions. Do you have the shop space, tools and money to do the job? Have you planned on protecting your investment in the right work space, and with a top quality car cover? If you're planning a full factory restoration, are all of the parts available and can you obtain shop manuals and manufacturer's guides to insure you're getting the right parts?
~
Besides the major car components, don't forget to tally all the new hoses, clamps, pipes, screws and shop rags. Browse the available parts from a muscle car parts catalog. If you don't plan to do all of the restoration yourself, can you find affordable and reputable shops that will do things like re-chroming to your satisfaction and within your budget? Don't forget the inside of your soon-to-be-classic. Do you have the expertise to reupholster the cloth or leather on the seats, install new carpeting and replace the wood or vinyl on the doors and dash?
While the classic cars of the 50s, 60s and 70s were fast and furious, you may want to make yours faster and more furious, especially if it's a Fury. Make sure you have the expertise to make the modifications to the engine, drive train and exhaust system to handle your need for speed and power while still keeping your classic street legal.
The finishing touch on any classic car is the paint job. Doing it yourself require patience and an artistic eye as well as a shop area where you can contain the spray, insure ventilation and properly dispose of paint removers and solvents. Once the car is restored, will you have a place to keep it safe from the elements and properly stored if you don't plan to drive it for long periods?
Popular Savings Offers
If you answer these questions honestly, do a thorough due diligence on the car and your budget and still want to restore it to classic condition, go for it. The looks and waves as you cruise in your classic car are well worth the effort.