What stones to use with diamonds
By Catalogs Editorial Staff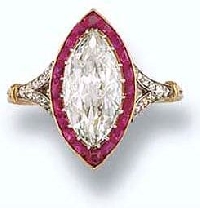 Deciding what stones to use with diamonds is primarily a matter of taste
Let's say you get to pick the exact
diamond ring
or any kind of ring you want and money is no object. We can see you, jumping for joy, rubbing your hands together in glee and anticipation. What are you going choose? Diamonds? Gemstones? Both? What stones to use with diamonds?
Keep in mind diamonds come in various colors — white, black, blue, canary, yellow, green, champagne, multi-color, silver, pink brown, orange and coffee. There is a lot of decision-making required.
YOU CAN DO IT!
Before you continue reading about the What stones to use with diamonds there is a special announcement we would like to share with you. Catalogs.com has negotiated special medicare rates for our vibrant community of seniors. If you are over the age of 60, you can head over to our Seniors Health Section which is full of information about medicare. All you need is your zip code and a few minutes of your time to potentially save 100s of dollars on your medicare bills.
Shape
Pick out the shape of the rhombus: Round, marquise, radiant, pear, princess, oval, cushion, emerald, trilliant, Asscher or heart.

Metal Color
Select the metal for the band — white gold, yellow gold or platinum. Keep in mind some gemstones look good coupled with white gold or platinum while others don't. Those that are intense and dark look better with white gold or platinum than do the lighter colors. You may want to pick the stones before you pick the metal.
Blue sapphire looks stunning with platinum or white gold as does amethyst, garnet, peridot, emerald, citrine, dark tanzanite, ruby and onyx. When a stone is light, it looks better against yellow gold.
~
Setting
The setting depends in part on the configuration you've decided upon. Ring settings include prong, v-prong, bezel, channel, pave, tension and bar.
Now Proceed …
Once you have decided on the above factors, it is time to choose which stones you plan on placing around the diamond centerpiece. Of course, a diamond does not have to be the focal point of the ring. You can make a sapphire or another gemstone the centerpiece and surround it with smaller diamonds. You can choose precious gemstones, such as sapphire, emerald, tanazanite or ruby, or opt for semi-precious stones such as citrine, amethyst, aquamarine, garnet, coral, cat's eyes, moonstone, onyx, opal, turquoise or lapis, just to name some that are available.
Color
If you love blue, sapphire is a good choice. Not only do sapphires come in vivid blues but also in yellow and pink. Rubies are another good option. They are dark, rich red or pink-red. Emeralds have long been a popular choice. They are dark green.
Semi-precious
Semi-precious are dazzling, including garnet, which is a brownish red, although it also comes in other hues. Amethyst in its unadulterated form is colorless but also available in violet and pastel red-violet. Peridot is light yellowish green, brownish-green or olive green. Turquoise is bluish green and sometimes a robin's egg blue, which is the most expensive turquoise.
Topaz is clear; however, when tiny amounts of impurities enter, this causes colors to appear including yellow, blue, brown, red, green and yellow-brown. Pink topaz is feminine, lovely paired with diamonds, and easy-to-wear.
Blue topaz is available in light sky blue; medium to dark indigo blue, which is referred to as Swiss Blue; blue green, which is London Blue, and the deepest blue, which is Maxi Blue.
Citron is deep yellow but can also be a grown-orange or golden orange.
These are some examples of stones and color options.
Before you head out to the jewelry store, take some time to research what is available. You will quickly realize which colors, styles, metals, settings and combinations appeal to you the most.
Ultimately, the choice is yours and based on personal preference. Some women like big rings; others like smaller, less conspicuous jewelry. Some think bigger and more ornate is better while others believe less is more.
A ring very much reflects your personality so pick the one that says … This belongs to ME and no one else.
Popular Savings Offers