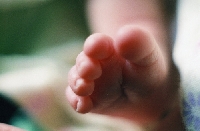 Here's a quick list of what to bring to hospital for delivery day
It's time! 
You rush your wife to the waiting car, heartbeat threatening to bust through your sweat soaked T.  Did you plan for this?  Do you know what to take?  What not to? 
Fortunately, a plan of action can help to cut down on stress and illuminate the unknown.  Being ready means preparing for many different eventualities and understanding what is truly necessary and what just might take up precious space.  For those looking to prepare prior to the big day, we've compiled a list of the dos and don'ts of preparing for what to bring to hospital for delivery. 
For the Labor Process
You'll want to have a picture ID, insurance card, and any other such hospital paperwork you may need.  Toiletries, glasses, contact supplies, a cozy bathrobe, and other such items may be both comforting and necessary in order to subsist in the hospital for longer than a night. 
Hospitals will provide for the patient, but it's always good practice to pack for unexpected eventualities.  Ideas include items that may help you in the process of relaxation prior to birth.  Comfortable pillows, music, and other items that have the power to reassure are good things to bring on that day.  A hand to hold wouldn't hurt either. 
For Your Terrified Mate
They say women are the stronger of the sexes.  And this may be true.  But the nervous, sweating male in the waiting room is anxious to hear news of a successful delivery.  This isn't an easy job, either.  Fortunately, there are still some items that can help him (or her) be comfortable as well.
A point-and-shoot camera — For those who have yet to see what happens at birth, bring a camera.  For those who have seen the instructional videos during their sixth grade sexual education classes, you may prefer to leave the camera at home.  Maybe just film the baby in its mothers' arms — Employ some artful editing. 
Toiletries will be a necessity for the mate as well, depending on length of stay, type of birth, and so on and so forth. Lotions and

shower supplies

in her favorite scents will make her feel pampered just when she needs it most. And make sure you have some of your fave guy needs, like a

manly hand lotion

, shaving supplies, deoderant and maybe a dry shampoo. 
Comfortable shoes and clothes will help.  This sounds like blasphemy as your wife is screaming bloody hell in the other room and you're worried about comfortable shoes. But it makes a difference. Trust me!
Snacks — Blood sugar needs to remain high enough that you don't pass out from lack of food during the birth. 
A

book

, iPhone, iPod, etc. for entertainment purposes in case the wait is longer than expected. 
Change to pay for snacks and drinks at the hospital vending machines.
After Delivery
Apart from a cool going home outfit for the baby, there are a variety of items that will make the transition from hospital to home even that much smoother.  Snacks will be a part of this list as well as the mother may in fact be pretty hungry after the hours long ordeal of pregnancy.  Other such items may include:
A car seat will be a necessity as well.  It should be installed prior to heading toward the hospital and ready to go upon delivery.  You'll need that special going home outfit with socks, cap, and a special, adorable baby outfit to keep them warm.  A swaddling blanket can be important as well, even though the hospital will give you one during your stay. 
~
Quick List of Don'ts
No jewelry, lots of cash, unnecessary medications (let the nurse know which ones you did bring, and why), diapers, breast pumps, or things of this nature.  Some are just common sense and others are items that the hospital will provide for you and the newborn.  Stick to these lists and you'll have one less thing to worry about as the day nears. 
Planning, understanding, and execution is everything.  Good luck!
Resources:
Baby Center:  Packing List for the Hospital or Birth Center
Livestrong:  What to Bring to the Hospital for a Baby Delivery
Above image attributed to sabianmaggy