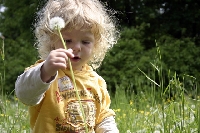 Take the kids outdoors for fun and memories they'll cherish forever
In this world of high-tech gadgets, internet, video games, and constant electronic distraction, it's sometimes hard to find time to unplug. But, as any good grandmother will tell you, fresh air and sunshine can do you and your kids a world of good.  
Fun and Games
A great day with great weather just begs you to get your body moving. And children are no exception. They need room to run, jump, and play, so set them loose on a playground, or a wide open field. Take them bike riding. Play a simple game of tag or hide-n-seek, getting the whole family involved. If the weather and season permits, take them swimming. Teach them to hit a baseball or get some sidewalk chalk and show off your hopscotch prowess. 
It doesn't have to be complicated, it just has to be fun. The exercise will clear your mind and rejuvenate your spirit, while you spend quality bonding time with your young ones.
~

A Natural Education
Another thing you miss by staying cooped up inside are the wonders that nature has to offer. Nature is the first educator, so take your kids out to learn about their home planet. Spend long summer days at the beach, hunting for seashells and drift wood. Get a tent and go camping at a nearby state park. Many towns have nature walks which have built in educational tools, like signs indicating the names of native plants or even a guided tour during which time your guide will identify the local flora and fauna for you. 
Any time you spend outside has potential for those ?teachable moments,? so grab some field guides of plants, animals, and insects in your area to keep with you. You never know when little Katy might see her first katydid and wants to know what it's called. You don't want to miss that astonishing moment by being caught unawares.   
 
Celebrate the Seasons
As the days on the calendar progress, the world outside changes, and each season brings with it unique opportunities for an outdoor romp.
Summer is the obvious season for dedicating some serious time spent out of doors. This is the fishing, swimming, cooking out, roasting marshmallows on a warm starry night season. This is the season for 4th of July fireworks and Memorial Day picnics. Take advantage of these long days and pleasant nights by eating watermelon until it drips down your elbows, and learning to identify constellations while lying in the grass in your pajamas.
In autumn, take the kids to a pumpkin patch to pick out their own jack-o-lantern. If you can find one that offers hot apple cider and hay rides, all the better. Go on walks and let your kids take pictures of brightly colored leaves. This is also a great time to put them to work raking all those fallen leaves in the yard, with the promise of leaf pile jumping after the job is done. Sure, you'll just have to rake them all up again, but the joy of seeing your halflings leaping into piles of leaves and giggling until it hurts makes it all worth while.
Winter is the time for sleigh rides and trudging through the snow to pick out the perfect Christmas tree. If you live in an area that is cold enough, find an outdoor ice skating rink and teach your little one how to master movement on two blades. If you don't know how to skate yourself, it'll be a learning experience for you both. Following this activity up with hot cocoa and warm blankets will help sooth any bruised buns and egos.  
When spring finally arrives, celebrate the coming of warmer days by taking the kiddos out to watch the icicles melt. Find out ahead of time which plants are the first to bloom in your area, and go on a hunt for buds and blooms. This is also the perfect time to involved in the garden, planting seeds and watching them grow. Even if you don't have a yard, you can still start a few seeds in pots.
Little hands love to play in the dirt, and growing something all their own, with your help, is an experience they'll never forget.