What to look for in a quilt kit
By Catalogs Editorial Staff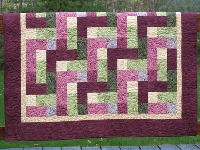 Here's what to look for in a quilt kit so that you have everything you need
Crafters looking to save time and money can do so by purchasing kits. The beauty of these bundles is that you get most or all of the supplies needed for a next project. There?s nothing more motivating than having everything you need at hand and ready to be turned into something lovely that you have already seen in a high quality photograph.
Many quilters are especially fond of them because they take care of expertly combining fabric colors and patterns with detailed instructions for making the project. If you?ve never tried one before, you should know what to look for in a quilt kit. While they may not provide every supply, most include high quality fabric so that your final product is exactly what you are expecting.
Whether you buy a fabulous new quilt kit at a small specialized needlework shop or large chain, the fabrics will be expertly pre-selected by the manufacturer to fit an exact pattern. This is not the place to scrimp; precut quilt kits may be of lesser quality fabric with low thread counts, higher shrinkage rates and may lack color fastness.
Before you continue reading about the What to look for in a quilt kit there is a special announcement we would like to share with you. Catalogs.com has negotiated special medicare rates for our vibrant community of seniors. If you are over the age of 60, you can head over to our Seniors Health Section which is full of information about medicare. All you need is your zip code and a few minutes of your time to potentially save 100s of dollars on your medicare bills.
Make certain that the kit you are purchasing is represented exactly by the image that accompanies the kit. Low cost kits may be assembled en masse, and won't necessarily mirror what's pictured. If possible, take a look at the colors and patterns when it?s not clear what they are.
Your time is best spent on a quilting project that will be a treasure for generations. Expect to spend time measuring and cutting; this is part of the fun in making a quilt.
In a perfect world, all bundles would include everything needed to complete the project, but that?s not the case. Here?s what to look for in a quilt kit and what you?ll probably need to get in addition.
~
Pattern 
Selecting fabrics and designing yourself can be a blast, but if you?re looking for a kit you probably don?t feel confident doing this. If you have questions about the photograph – colors, tones, patterns – speak with a salesperson. Make sure there?s a pattern and instructions included.
Pre-cut fabrics
Sometimes kits will only include a pattern and instructions and you will have to purchase your fabric separately. If the price is too good to be true, this may be the case. Always write the company or call customer service if it?s not clear what?s included otherwise you?re in for a frustrating trip to the fabric store!
Even if it?s clear that enough fabrics are included to complete the project, they may not be the exact same fabrics pictured on the pattern. This is rarely the case with high-end quilt kits, but is common with lower-cost precut fabric kits. This can be annoying if you?ve already fallen in love with the tones and patterns pictured. Again, ask the store if it comes with the actual fabrics if this is not clearly indicated in the product description.
Embellishments
Though the pattern may include embellishments, they?re not always in the package. And when they are provided, you may not have fusible inter-facings or other materials needed to apply them. It?s not a bad idea to stock up just in case.
Binding fabric
Quilting kits usually include enough binding fabric, but not always. If you?re learning how to quilt, you may not have this on hand so read the description carefully and double check with the seller when it?s not clear. 
Backing fabric
You can?t make a quilt without backing fabric, but for some reason this is rarely included. A few online needlecraft shops and small stores will give you a discount when you purchase it along with a kit. It doesn?t hurt to ask.
Batting
You will seldom find a kit that includes batting. Better yet, save yourself the search and simply purchase the amount you?ll need next time you?re in your favorite supply shop. It?s a good excuse to stop by and say hello to your fellow crafters.
Thread
Don?t expect there to be thread included or you?ll be disappointed. Simply pick it up when you get the batting.
Once you know what to look for in a quilt kit and what you?ll probably have to pick up on your own, it?s easy to see whether you?re actually saving money, getting a kit that will result in a high-end quality product, or just skipping the design aspect.
In most cases, working from a kit is more affordable even if it doesn?t have everything you need. Some even provide labels to help you organize the fabric.
Best of luck with your next project.
Popular Savings Offers