What to make for dinner tonight
By Catalogs Editorial Staff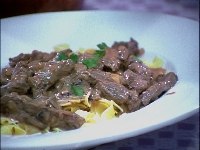 Need dinner ideas? Try this fast, simple, delicious and nutritious recipe
What to make for dinner tonight?  It?s the question on everyone?s mind at the end of a long day.  However, finding time to prepare a gourmet dinner is not always possible amidst today?s busy family schedules.  During these occasions, it is tremendously helpful to have a trusted cookbook on hand.
One of my personal favorite cookbook series; that I often consult prior to a particularly busy work week, is titled Desperation Dinners. This unusual cookbook series was created by two talented mothers, Beverly Mills and Alicia Ross, who committed themselves to task of preparing healthy and tasty home-cooked meals in a hurry.  They even used a stop watch to time exactly how long each recipe took them to make. 
Today, the careers of these two chefs have sky rocketed.  They have produced three best selling books, various television and radio shows and they both write syndicated culinary columns for major newspapers. 
Before you continue reading about the What to make for dinner tonight there is a special announcement we would like to share with you. Catalogs.com has negotiated special medicare rates for our vibrant community of seniors. If you are over the age of 60, you can head over to our Seniors Health Section which is full of information about medicare. All you need is your zip code and a few minutes of your time to potentially save 100s of dollars on your medicare bills.
At the heart of the matter, both these working women transformed the daunting question of what to make for dinner tonight, into a fun, fast and accessible family-style cookbook. Best of all, their cookbooks offer a variety of fantastic recipes that can be easilly created from leftovers.  For instance, a classic turkey tetrazzini recipe, and festive turkey enchillada recipe, ideal for incorporating the turkey left in your refrigerator after a Thanksgiving or Christmas feast. 
If the question of what to make for dinner tonight is nagging you, here is one of my very favorite recipes, my personal variation on a terrific Steak Diane with Egg Noodles recipe from the Desperation Dinners cookbook.  This delicious and nutritious recipe is also particularly fast (only 15 minutes to prepare, start to finish!) The recipe serves two, but it is easy to double. 
Hmmm?. what to make for dinner tonight?
Try Steak Diane with Egg Noodles!
INGREDIENTS: 
4 ounces of egg noodles – fat-free or yolk free egg noodles can also be used
1 tablespoon butter
8 ounces sirloin steak for stir-fry*
1/4 teaspoon salt
1/8 teaspoon ground black pepper
1 teaspoon bottled minced garlic
8 ounces sliced button mushrooms, chopped
1/4 cup brandy*
1 1/2 teaspoons Dijon mustard
1/4 cup beef broth or stock
2 tablespoons finely chopped scallions
1 teaspoon Worcestershire sauce
1/4 cup cream
1 teaspoon minced parsley leaves, optional garnish
INSTRUCTIONS:
1) Cook the egg noodles in boiling water according to package directions.  Drain, set aside.
2) While noodles are cooking, melt half the butter in a large skillet over medium heat. Add the beef and season with salt and pepper. Cook for 3 to 4 minutes, turning the beef until cooked through and lightly browned. Remove the beef to a plate and cover with foil to keep warm.
3) Melt the rest of the butter and add the garlic and mushrooms. Stir and cook until the mushrooms are tender and release their liquid, about 3 minutes.
4) Tilt the pan and pour the brandy into the edge of the skillet. (For electric stovetops, light with a match. For gas stoves, turn the flame to high and ignite the brandy.) Swirl the flaming brandy in and around the mushrooms until the flame goes out. Return to the burner and reduce heat to medium-low. Add the Dijon mustard, broth, Worcestershire sauce and scallions. Add the half and half and stir and cook for another minute to thicken and combine flavors. Remove from the heat.  Serve immediately over cooked egg noodles, and sprinkle with chopped parsley, if desired.
And for the Dessert Course?
Beverly Mills and Alicia Ross wouldn't dream of leaving desserts out of their Desperation Dinners cookbook series, and YOU shouldn't dream of skimping on desserts either!  These chefs provide an assortment of tasteful and healthy dessert recipes, which can be prepared in under thirty minutes.  One of my favorite desserts is a stewed apples recipe that is far more delicious than any apple pie I have ever encountered.  The trick to this recipe is finding quality apples.

Try Cinnamon Stewed Apples!
INGREDIENTS:
3 large tart apples, such as Granny Smith or Winesap
3 large sweet (firm) apples, such as Braeburn, Gala or Fuji
2 tablespoon lemon juice
1 tablespoon unsalted butter
1/3 cup light brown sugar
3 tablespoon maple syrup
2 teaspoon apple pie spice, or combination of cinnamon, nutmeg and all spice
Salt, to taste
INSTRUCTIONS:

1)  Peel, core and slice apples about 1/8-inch thick, placing slices directly into a 4 1/2-quart Dutch oven or other large, heavy pot with a lid. Toss apple slices with lemon juice. Add butter and place over medium heat.
2)  Add sugar and spices. Stir and cook until apples begin to release moisture, about 2 minutes.
3)  Reduce heat to medium-low and cook, stirring occasionally, until apples are tender but not mushy, about 8 to 10 minutes. Season with salt to taste and serve immediately.
Popular Savings Offers