What to put on your first resume
By Catalogs Editorial Staff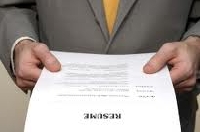 Knowing what to put on your first resume if you don't have work experience
The task of creating your first resume, also called a CV, is often quite daunting and intimidating, particularly if you lack work experience. However, you don't need to fret; by tapping into your education, positive character features and skills, you can create a bio that is worthy of just about any profession. 
Education
Your educational experience is likely your strong point right now, so list this first on your CV. Here is where you want to place your high school, as well as any colleges, you may have gone to. List the dates you attended and what your studies included. For instance, you can list your major and any minors you may have had.
Before you continue reading about the What to put on your first resume there is a special announcement we would like to share with you. Catalogs.com has negotiated special medicare rates for our vibrant community of seniors. If you are over the age of 60, you can head over to our Seniors Health Section which is full of information about medicare. All you need is your zip code and a few minutes of your time to potentially save 100s of dollars on your medicare bills.
Additionally, you can also relay any skills you acquired during your studies. For instance, if you become proficient in a computer program, place this information on your bio. Doing so may be particularly helpful, especially if the job you seek deals with computers.
~
Place your grade point average on your CV if it is 3.0 or above. Doing so shows your potential employer that you were serious about your studies, and will likely show just as much focus when it comes to the job.
Also list any awards you received during your studies, such as being placed on the Dean's List or receiving Senatorial scholarships. Such honors typically impress employers.
Employment History
Even if you've never had a full-time job before, you should still list any type of employment experience you have on your CV. Part-time employment, internships and even baby-sitting should all be included on your bio.
Write the dates of your experiences, along with where the job was. Additionally, list any skills you acquired while there, particularly if they relate to the job for which you are attempting to become hired.
List any experiences you received through school, as well. For instance, if you wrote on the school newspaper, make sure you include all of your duties. Even if you didn't receive payment for your work, it still looks impressive on your bio.
Interests
You may not think your interests belong on a CV, but they certainly do. Relating your interests to a potential employer may impress him or her and could make you seem like the right person for the job.
For example, writing that you been studying the piano for the last seven years, shows that you have focus and discipline. Coaching a soccer team or playing on one shows dedication and responsibility.
List any skills you believe you have gained as a result of your interests, particularly if they pertain to the job. You could say that coaching the soccer team has helped you become a leader and has given you experience in motivating people and keeping them focused. Remember, you are basically selling yourself with this resume, so you'll need to make yourself sound like an asset to the company.
Shaping the Resume
Having a general resume is a good idea, however, you want to tailor it to each job for which you are applying. Therefore, you will have to alter your bio each time you send it out.
Take a good look at the job posting and identify any key points you think the employer is looking for. Work those points into your resume. For instance, if the employer wants the candidate to have a passion for a particular subject, make sure you include that you do.
Shaping your bio to fit the wants and needs of the employer is perhaps the most important aspect of writing your first resume. Doing so makes you stand out and shows the employer you are serious about getting the job.
Resources:
About.com: Writing Your First Resume
About.com: How to Write a Resume When You Think You Have Nothing to Write
Popular Savings Offers