What to wear in Europe
By Catalogs Editorial Staff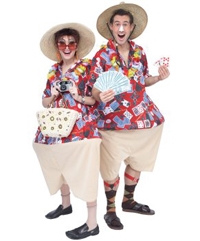 Europeans are quite conservative when it comes to everyday wear.
The rumors you've heard about Europeans being somewhat judgmental, especially of tourists, is true. Europeans can spot a tourist from a mile away, and mostly because of his or her appearance.
Europeans are experts in fashion. Think about it. The most cutting-edge styles come out of the big fashion capitals there — Paris, Milan, London and Rome. So, what to wear in Europe is not something to take lightly – if you don't want to be treated like a tourist. This is not to say you have to wear a Bjork-style emu dress to fit in. Quite the contrary.
Europeans in everyday life are quite conservative when it comes to the clothes they wear. You will not see Europeans wearing baggy jeans, bold patterns or oversized, white tennis shoes. Men are neatly dressed in tailored pants. Women wear capri pants instead of shorts. No matter what time of day it is, Europeans are dressed to impress.
Before you continue reading about the What to wear in Europe there is a special announcement we would like to share with you. Catalogs.com has negotiated special medicare rates for our vibrant community of seniors. If you are over the age of 60, you can head over to our Seniors Health Section which is full of information about medicare. All you need is your zip code and a few minutes of your time to potentially save 100s of dollars on your medicare bills.
Obviously which countries you're visiting and the time of year you plan to go will be deciding factors that guide your packing. Here are some tips and a general checklist to keep handy while you pack what to wear in Europe.
Cardinal rules of what to wear in Europe:
*Pack wrinkle-proof black pants
*Pack comfortable shoes, preferably some hip "Euro-sneakers" like Asics, Keens or Pumas. Whatever you do, don't wear white tennis shoes. They will stick out like a sore thumb. Also, don't use the streets of Europe to break in a new pair of shoes. You'll regret it.
*Solid colors are key. Europeans are conservative when it comes to colors, so black and gray are ideal for blending in. Don't show up in a rainbow of bold colors and prints. And avoid wearing white.
*Layers. Layers. More layers. Layering your clothes will get you through any kind of weather.  
*In order to pack light, bring clothes that you can mix and match.
~
Basic checklist for what to wear in Europe, no matter which country (or countries) you're traveling to.
*Two pairs of pants
*Two long-sleeve shirts (preferably button-downs)
*One pair of shorts (longer shorts are ideal)
*One skirt or dress. Make sure it's long. This will cover you in case you're in a country that frowns upon showing skin.
*Five pairs of underwear. If you're going for longer than a week, you will have to do your laundry anyway. No need to stuff a clean pair of underwear in your suitcase for every day of your trip.
*Five pairs of socks
*Three t-shirts or tank tops. You will want to use the t-shirts to layer your clothes. Tank tops are great for hot summer days or outdoor activities like hiking.
*Sweater or jacket. If you're visiting between fall and spring, it's important to bring a jacket.
*A wrap or shawl. You will need to cover your shoulders at some churches in Europe.
*Long underwear. If you're headed to Northern Europe in the fall and winter months, you'll need these for layering.
*Comfortable shoes. You will be walking unbelievable amounts in Europe. See note above for rules on shoes.
*Hat.
If you remember the cardinal rules of what to wear in Europe, you'll be fine. The key is not to draw too much attention to yourself but to also have all the clothing items you need while you're there. And of course, you can always buy clothes while you're there! Bon voyage!
Popular Savings Offers