What to wear in Miami
By Catalogs Editorial Staff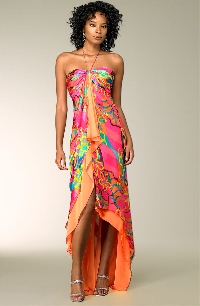 If you're wondering what to wear in Miami, here are some tropical fashion tips
Miami!  Sunny days and sultry, tropical nights. And you're about to visit! But as you look into your closet and imagine yourself strolling among under the stars or rubbing elbows with celebrities at a trendy cafe, you're wondering what to wear in Miami, right? Fear not!
As a native South Floridian, I am here with the fashion tips you need to feel comfortable and look great as you tour this one-of-a-kind city.

What Miami is
Miami is a multicultural playground for the world. A few minutes wandering through the shops at Bayside and you will hear a dozen different languages. The days are long, the nights are longer and people love their fashion. Miami is music, art, business and beaches. It's New York and South America and the Caribbean and Europe all rolled up into one incredibly unique experience. 
Before you continue reading about the What to wear in Miami there is a special announcement we would like to share with you. Catalogs.com has negotiated special medicare rates for our vibrant community of seniors. If you are over the age of 60, you can head over to our Seniors Health Section which is full of information about medicare. All you need is your zip code and a few minutes of your time to potentially save 100s of dollars on your medicare bills.
Miami is a combination of hot Brazilian barely-there beachwear and the trendiest urban street wear. Looks that work for a leisurely very late breakfast by the boardwalk or for the hip hop bustle of Urban Beach Week may seem worlds apart, but that is what Miami is.
What Miami is not
Miami is not Hawaii.  It is not Orlando. It is one of the world's most popular destinations, but it is not a tourist city. Miami is not stuffy or formal or big on suits and ties. Miami is not like any other city in the U.S.
Now…what to wear in Miami
So how do you dress in this unique city called Miami?
The first answer is cool. Although Miami is blessed with refreshing tropical breezes, the weather is far from chilly. Leave the polyester and other synthetics at home and opt for natural fabrics like cotton. These materials will allow air to circulate, keeping you looking cool and comfortable even on the hottest days. Cotton capris are a favorite Miami staple.
~
The next answer is color. Miami is tropical. Brightly colored parakeets fly through the palm trees, the sky is a blue that defies definition and the flowers come in every shade of the rainbow. Even our houses are colorful, with pinks, yellows and turquoise facades everywhere you look. When you pack to come to Miami, forget that the colors beige and gray exist. And tan is limited only to describing that warm color your skin will earn as you spend days in the sunshine. Head for soft pastels, rich jewel tones and those brightly colored sundresses you wouldn't see on anyone over the age of five in most northern cities.
Show some skin. South Floridians like to show skin, and who can blame us? Between the sunny days and the soft evening breezes, who wants to hide under layers of clothing? Leave the long-sleeved t's and layers to our cousins in the north and west…we'll keep our shorts, capris, tank tops and strappy sundresses. Go for summer looks with minimal coverage and you'll look like a native.

Keep it comfortable. Unless you're working for a very traditional company based somewhere else, leave your business suits and ties at home. And forget the pantyhose…that beast is so rare here that local police once pinned a summer murder on an out-of-towner because of pantyhose fibers. No one here would wear them, especially in summer!  Business meetings are often conducted in jeans, t-shirts and sandals, while formal is a guayabera shirt and cotton pants for men and a long sundress for women.

When night falls, black is back. In the hot restaurants and clubs along Miami's South Beach (known as SoBe), night is the time for black. The clothing is still skin-baring, and the fabrics usually natural, but black rules once the sun goes down. Dresses, pants, tops, skirts…you name it, in rich ebony, accented with sparking jewels and trendy accessories.
What NOT to wear in Miami

So now you know what to wear in Miami.  Now the rules for what NOT to wear:
Socks with sandals. Screams tourist.  In fact, tourist with bad taste. Ditto Hawaiian shirts except at Jimmy Buffet concerts, synthetic cruise-wear and anything remotely racist on a t-shirt. Also pantyhose, Miami Vice wanna-be looks, really dressy clothes for dinner, and short-shorts on anyone male or female over age 35. We may like skin, but we do have our limits, even in Miami!
 
Bienveniedos a Miami!  Welcome to Miami!
Popular Savings Offers