What you need to do latch hook
By Catalogs Editorial Staff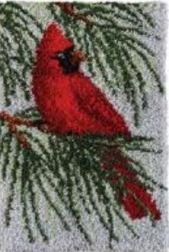 Create masterpieces with a latch hook, canvas, and yarn
Latch hook is an easy, enjoyable textile craft that lets you make pictures and designs by knotting pieces of yarn on a mesh canvas. What you need to do latch hook are only four things:
a latch hook canvas;
a latch hook tool;
pre-cut latch hook yarn; and
finishing materials.
The kinds of things you can make are virtually endless and include rugs, wall hangings, Christmas tree skirts, pillows, cushions, welcome mats, and draft dodgers to put in front of your doors bottoms to stop winter drafts.
Getting Started
Before you continue reading about the What you need to do latch hook there is a special announcement we would like to share with you. Catalogs.com has negotiated special medicare rates for our vibrant community of seniors. If you are over the age of 60, you can head over to our Seniors Health Section which is full of information about medicare. All you need is your zip code and a few minutes of your time to potentially save 100s of dollars on your medicare bills.
If you?re new to latch hooking, the easiest way to begin is by buying a latch hook kit that contains everything you need. You?ll probably want to start with a small, simple project because latch hook does require patience. The larger the project, the more time it takes to complete. Also, look for a kit with a 3.3-mesh canvas. This means there are 3.3 holes per inch. Canvases come in 3.5-mesh, 4.75-mesh and 5-mesh as well, but again, the more holes per inch, the longer it will take you to do the project. In addition, fewer holes per inch mean the holes are larger and easier for beginners.
~
Sometimes the pattern is stenciled onto the canvas, but oftentimes kits include a chart, similar to a needlepoint or counted cross-stitch pattern, for you to follow. Each symbol on the chart grid represents one strand of yarn in a specific color. The yarn, usually a lofty 100 percent acrylic, is pre-cut to 2.5-inch lengths. Kits seldom include the latch hook tool itself, but they are quite inexpensive. They look like a crochet hook, except that they?re hinged and have a wooden or foam handle.
The 1930 book The Hooked Rug by William Winthrop Kent gives probably the best description of latch hook. ?A canvas is used like cross-stitch canvas, only coarser, which has every third mesh a large one. It is held on the knee or on a table. The pieces of yarn are cut exactly the same length by a gauge. The hook used has a catch or latch on it and is inserted in one hole and out the next in the next row.?
Learning How
You can find numerous online tutorials, including YouTube videos, on how to latch hook. Before starting your project, look closely at the canvas to determine in which direction you will work. Your yarn always must be hooked on the horizontal threads of the canvas. Hooking it on the twisted vertical canvas threads will result in your finished piece pulling out of shape.
The most important thing to remember is to make sure your knots all face the same direction. If you tie them in more than one direction, the knotted strands will lie unevenly and detract from the final appearance.
Another thing to remember is that when you finish your project, fluff up the knotted strands by running your hand across them going against their grain. It?s also a good idea to vigorously shake the finished piece for a few seconds and, if necessary, even out the ends of the knotted strands by slightly pulling on the edges of the piece.
Finishing Materials
What you need to finish your project depends on what you?ve made. If it?s a square or rectangular wall hanging or rug, cut away the excess canvas, leaving a 1-inch border around all sides of the last rows of knots. Cut off the corners of the canvas half an inch from the knotted area and fold all four canvas edges over, tacking them to the back of the canvas with heavy thread. Then bind the edges with sew-on or iron-on binding.
For a rug, apply a nonskid rug backing with a brush. It?s easy to apply, keeps the rug on your floor without sliding, and prevents the fibers from loosening or unraveling. It?s also machine washable and dryable. Sixteen ounces covers 15 square feet.
After binding your wall hangings, you?ll no doubt want to hang them from a pretty finial rod with clip hangers. You can choose a plain rod or one that has decorative open-work metal designs like stars, bows, flowers, leaves, etc. at the top.
And there you have it. Everything you need to do latch hook. Enjoy creating your projects. They?re sure to become family heirlooms.
Popular Savings Offers