When you buy something using the retail links in our posts, we may earn a small commission. Catalogs.com does not accept money for editorial reviews. Read more about our policy
here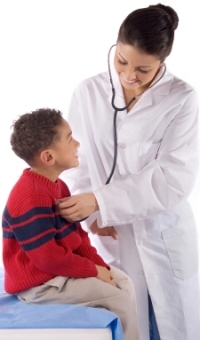 Medical supplies must address a wide range of needs
Ah?the good old days?the days when a trip to the school clinic was an adventure into a world where cotton balls, wooden tongue depressors and strawberry lollipops filled the apothecary jars on the shelf next to the examination table. The old days recall a time when the worst that could happen to you was?not so bad.
Maybe a bully pushed your face into the arcing stream of water at the drinking fountain in the hallway. The sudden jolt cracked your front tooth. Maybe a playmate flung sand in your eyes during recess. Or, during a game of hide-and-seek, you discovered a potent patch of poison ivy. Lots of things could happen to you. But in the old days, it seems they weren't so bad.
What are the medical needs of today's students?
Today, things are a little different. The medical needs of students are many and varied. Cuts, bruises, broken bones, some sand in the eyes and the occasional cracked tooth vie today with more serious medical needs. The school nurse helps with student concerns such as asthma control, diabetes monitoring and the dispensing of medications for a variety of ills ranging from hyperactivity to psychological abnormalities.
Students today cope not only with sports injuries but with anorexia, bulimia, HIV infection, sexually transmitted diseases and complications triggered by obesity. Highway accidents involving young drivers have physical ramifications that carry over into the school clinic. Student pregnancies are increasingly common. Drug addiction and alcohol abuse take a toll among students. The school medical clinic is a busy place, nowadays.
How does a team approach benefit students' needs?
Recommendations from the students' private doctors?if indeed private physicians are consulted?often need augmentation by medical personnel at the school clinic. Parents, teachers and administrators everywhere mostly agree that good health is an outcome that takes lots of teamwork. Frequently, it's the school's team of medical professionals who tie it all together. Those that maintain the school medical clinic and its myriad of supplies need also to maintain a balance of competence and compassion. After all, a student's trust is a commodity not easily shared with most adults.
Luckily, the challenges of today are met with innovations unheard of in the good old days. Modern science and technology have brought to the school clinic medical supplies, products, programs and services never before available to the dedicated staff that helps America's students stay healthy. Educational materials that teach prevention of various illnesses are easy to obtain. Brochures, booklets and manuals about a multitude of risky behaviors?needle sharing, unprotected sex and Internet dating?can be found. It's a whole new world, compared to that of yesteryear. The responsibility is a heavy one for the person faced with the question: Where can I get medical equipment?
~
What products are necessary for children's health in schools?
Children's health can be more easily monitored and their needs quickly met when the school clinic is well supplied. Many items are needed but the products' cost and the school's budget are constant considerations. Bargains are available but quality is a necessity. The buyer asks: Where can I get medical equipment? It's a question to ponder as supplies on hand are checked for expiration dates. Shortages are noted. Items on hand in abundance are passed over until the next time an order is placed.
Then, the shopping begins. School medical supplies are at the top of the list. Needs may vary seasonally; perhaps allergy medicines are depleted more quickly during the spring. Nevertheless, some medical supplies are needed throughout the school year?and during summer school too, when the school clinic also receives its fair share of visits. Some medical supplies are always needed:
? Bandages, gauze, adhesive tape
? Blood pressure cuffs and stethoscopes
? Diabetic monitors and sterile swabs
? First aid kits and menstrual products
? Bee sting anti-venom kits and antiseptics
? Vision testing charts and thermometers
? Arm slings, finger splints, wrist guards
The list can be a long one. And there's no doubt that the lone item not ordered will be the next item to be needed. When one considers that often it is the school nurse that is in charge of health screenings, emergency first aid, immunization records and medication dispensation, one sees the necessity of a well stocked school clinic. The principal's office may be the administrative center of a school but for any student seeking services the school clinic is its heart. Lollipop, anyone?