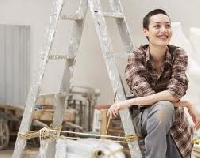 The room that you hate the most is the answer to where do I start decorating
It?s signed, sealed and delivered. Your very first home or condo has been purchased, or you are living in your very own apartment for the first time. You have some disposable income and want to use it to decorate your new abode. However, "Where do I start decorating?" you might be thinking.
Standing in the midst of your new residence, looking around and seeing that work needs to be done just about everywhere is an overwhelming and scary sensation, particularly if you have never undertaken a project of this magnitude before.
Relax and breathe. Some of the decorating work can be postponed. It doesn?t have to be done overnight. Home decorating is a long-term project. Decorating gives the homeowner great satisfaction and a feeling of accomplished once it is completed, even if it takes years.
It is imperative that a priority list is made, noting which areas of the house are demanding your attention first. If you absolutely cannot stand the color of the kitchen, then painting or wallpapering that room should be your first order of business. 
A coat of paint can change a room from unremarkable to spectacular in no time flat. Do not underestimate the wallop that a coat of paint carries.
~
The living room or family room is generally the room that is used the most, next to the kitchen. More people are going to see this room than will see your bedroom.
Inserting a splash of color into your home, via throw pillows, wall art, area rugs, plants, and collectible objects is an easy and affordable way to decorate the home, giving it some personality and interest.
Study the natural light in your home. If the interior is dark, light it up. The lighting that you choose makes all the difference in the warmth, charm and visual acuity of your house. Ambient lighting, cove lighting, under cabinetry lighting, floor lamps, spot lights, up lighting and task lighting are all options. Layer the lighting in your home for a great effect  There are marvelous lamp shades and lamp bases available that make a declaration themselves, even when the light isn?t turned on. 
People tend to congregate in the kitchen.  Start the decorating efforts in this room. Change the backsplash. Get new appliances if you can afford it. Hang photographs on the wall or prints or posters. Display your good pots and pans and dishware. If the floor is bad but you can?t change it, toss a lively area rug in the middle of the room. Cabinets can be painted and new hardware (knobs and pulls) can easily be added.
The bedroom is where individuals are supposed to find comfort and solace after a long day at work. Study the color of the room. If it is garish or not at all appealing to you, change it. The wrong color on the wall can be very depressing. Colors definitely impact the way we feel. A bedroom that is too busy or bright can prevent the homeowner from getting quality sleep. 
What types of window coverings are there? Curtains can be purchased at a reasonable price and can make a big difference in the interior of the home. If you want to brighten a room, buy something that is lighter and gauzier and allows more light to get into the room. If you want to darken your bedroom, purchase rich, dark-colored drapes and/or room darkening window blinds/shades, which are ideal for the person who works at night and sleeps during the day. Window treatments can be enhanced by using great-looking hardware and tiebacks.
If the bathroom is gross, direct your attention to this room. A bathroom, like the bedroom, can be a safe haven after a rough day at work. There is something tremendously relaxing about lying back in a hot, soapy tub full of water and just letting go. Perhaps the room needs new fixtures or even a new tub, shower, vanity or tile and flooring. Try to work these expenditures into your budget as soon as possible because humans spend a lot of time in their bathrooms, and it should be an enjoyable experience.