Where to buy American Girl Doll accessories
By Catalogs Editorial Staff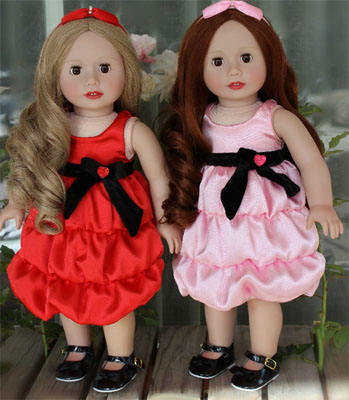 The 411 on where to buy American Girl Doll accessories for enthusiasts
Kids who love playing with dolls have never had so many options. From choosing one that looks just like them, to owning one who comes with her own set of stories. Many are designed and styled after a specific period in history, so they offer a fun, tangible way to explore the past.
Once the special child in your life has a doll to love and play with, it?s useful to know where to buy American Girl Doll accessories. While the brand manufacturer, Mattel, sells an array of choices to fit each girl?s personality, a number of other shops also offer beautiful fashion for dolls.
Before you begin browsing, note that they 18 inches. Scale is the most important thing to keep in mind otherwise you?ll end up with accessories that don?t fit.
Before you continue reading about the Where to buy American Girl Doll accessories there is a special announcement we would like to share with you. Catalogs.com has negotiated special medicare rates for our vibrant community of seniors. If you are over the age of 60, you can head over to our Seniors Health Section which is full of information about medicare. All you need is your zip code and a few minutes of your time to potentially save 100s of dollars on your medicare bills.
Start online
Thanks to the Internet, makers of dolls and their accessories need only a website to share their products. You can do a visual search on Pinterest or refer to a collector's guide for refreshers on your girl?s background story, personality and fashion sense.
~
Accessories sold from independent businesses or auctioned on sites like eBay span the spectrum when it comes to pricing – you can find great deals as well as a wardrobe that costs more than yours. Since they?re produced in smaller batches by on-trend designers, they also reflect what?s trendy in fashion today. This is helpful since children often enjoy dressing alike and taking care of their dolls.
Etsy
Etsy is a selling platform for thousands of creative entrepreneurs, many of whom share a fondness for play. This is where to buy American Girl Doll accessories that are made with love. You?ll find vintage dresses, cool jackets, adorable pajamas and hand-knitted outerwear. In addition to clothes, sellers offer clothes hanging racks, hanger sets, footwear and furniture for 18 inch play friends.

Large retailers
For convenience, you can?t beat large, national retailers like Target and Amazon. Though the former doesn?t officially carry the brand, they do sell beautiful accessories in the right size, including a travel case and bunk bed. Sellers on Amazon offer a mix of both brand name and correctly-sized extras, including fuzzy bunny slippers!
Toys R Us? is another great place when you?re wondering where to buy American Girl Doll accessories. They don?t carry the brand, but their Journey Girls line is also 18 inches. They sell outfits, handbags and furniture both online and in stores so you can browse with your child wherever it?s convenient.
Next time you?re in Kohl?s, check out the kids? sleepwear section. Many of the pajamas for girls age 4-7 come with a matching pair for 18 inch friends. Some designs are sold in stores, but you?ll find more selection online.
Old fashioned stores
It can?t go without saying that many brick and mortar doll stores carry accessories for this scale, but it always helps to call ahead to be sure. These are rare, fantastic places to bring an imaginative child. Many carry antique doll houses and handmade furniture, too.
Even if the sizing isn't correct, it?s fun to show kids they?re carrying on a long tradition of play. It may even inspire them to try their hand at crafting a few accessories by hand.
Toy clothing stores
It?s starting to seem like there are as many places to buy doll clothes as there are to buy human clothes. Yes, there are superstores that cater to kids who love Barbie, Cabbage Patch Kids and, of course, American Girl Dolls. You?ll find unique matching outfits, beds and other classic accessories at these online superstores.
There?s a reason these toys are still extremely popular with children: They become fast friends! Their stories are easy to relate to and teach kids about developing interests and pursuing talents. Dressing them and filling in their "world" with tangible accessories is a natural way for kids to explore their nurturing side.
Popular Savings Offers