Where to find heart costume jewelry
By Catalogs Editorial Staff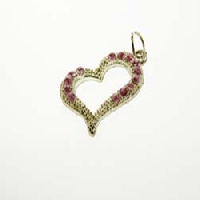 The perfect heart is out there!
Hearts are a popular symbol in both costume and fine jewelry. Because of this popularity, there are quite a few resources available to shoppers to find heart shaped designs. There are also plenty of variations of the heart itself ? designs that have changed over time while staying true to the original concept.
Where to Purchase
Since the heart symbol is so popular, you shouldn?t have a problem finding costume jewelry in this shape. Many local shops usually have a wide selection, even when it?s not Valentine?s Day. Costume jewelry is often kept in a separate area from fine jewelry so people don?t confuse the two. If you can?t find the perfect piece in those shops, try antique stores, estate and garage sales. Who knows ? you might stumble across the perfect vintage piece.
Before you continue reading about the Where to find heart costume jewelry there is a special announcement we would like to share with you. Catalogs.com has negotiated special medicare rates for our vibrant community of seniors. If you are over the age of 60, you can head over to our Seniors Health Section which is full of information about medicare. All you need is your zip code and a few minutes of your time to potentially save 100s of dollars on your medicare bills.
Another option is to look online. Many designers are selling their creations only online. This strategy keep costs down and provides one-of-a-kind items to a wider audience.
For instance, one designer has created a piece called the Infinite Devotion Bracelet. This bracelet is made up of braided leather, a watch face surrounded by rhinestones, a rhinestone crusted infinity symbol and angel wings, and is embellished with matching stones. Here, the wings and the infinity sign represent the eternal bond between two souls.
~
The key to shopping for heart costume jewelry is to take your time and consider all options. Narrow those choices down to the type of jewelry, color and design that is your favorite. Chances are you?ll find the perfect piece that speaks directly to your heart!
History
One of the oldest pieces of heart jewelry was found in Karabakh, Armenia. This tiny heart pendant dates to the Bronze Age and is roughly 3000 years old. Another depiction was found on a coin from the ancient city of Cyrene in North Africa, which shows the heart shape stamped on a silver disc.
Interestingly enough, the coin designer was not necessarily creating a heart shaped design. Instead, it is a picture of a silphium seed pod. This now extinct giant fennel was harvested to extinction in the 7th century, because it provided an effective means of birth control. This example is one of the first links between romantic love and the heart symbol.
Later, in the 17th century, the Catholic church introduced the Sacred Heart when Saint Margaret Marie Alacoque had a vision of a heart shape surrounded by a crown of thorns and recognized this as a symbol for the soul of Jesus. During the Victorian Era, popularity of the heart symbol really came about. Nearly all economic classes could find and afford heart jewelry, because costume jewelry provided beautiful pieces that were affordable. 
Types of Hearts in Jewelry
The popular asymmetrical heart ? that is, one side is slightly different than the other ? began in early Victorian times and is called the Witch?s Heart. The name is a reference to the fact that the wearer was ?bewitched? by the giver. A single Witch?s Heart is one given to a sweetheart and two entwined hearts were a symbol of marriage.
The Claddagh symbol is a heart held gently by two hands and topped with a crown. The hands represent friendship, the heart for love and the crown is loyalty. Although the design dates back to Roman times, it became a popular engagement ring in the Middle Ages and is now recognized as an icon of Irish heritage.
There is even a specific way to wear a Claddagh ring. On the right hand with the heart facing away from the wearer means that the person is looking for love, facing towards means they are in a relationship. On the left hand with the heart facing away turns it into an engagement ring and turning it around changes it to a wedding ring. Talk about bang for your buck!
Popular Savings Offers