Where to find the best crumb cake
By Catalogs Editorial Staff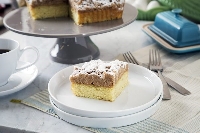 To find the best crumb cake, you have to start with the crumb
Crumb cake is an East Coast standard, with particular popularity in New York and New Jersey. If you aren?t from that part of the country, you may think crumb cake is synonymous with coffee cake and that any cake with a crumb topping is, in essence, a crumb cake. And you would be wrong. 
It?s All in the Crumb
The very best crumb cake is mounded high with tons of large brown sugar and butter crumbs which tend to look a lot like large cottage cheese curds, if you needed something to compare it to.
Before you continue reading about the Where to find the best crumb cake there is a special announcement we would like to share with you. Catalogs.com has negotiated special medicare rates for our vibrant community of seniors. If you are over the age of 60, you can head over to our Seniors Health Section which is full of information about medicare. All you need is your zip code and a few minutes of your time to potentially save 100s of dollars on your medicare bills.
The cake below ? a standard yellow cake ? is really a vehicle for the crumbs as the crumb layer should make up at least one-third to one-half of the total height of the cake. Therefore, the cake must be sturdy enough to carry the weight of the crumb, but light enough so that it isn?t distractingly dense. This is a delicate but important balance. The cake itself can be flavored with fruits or chocolate or whatever lovely addition you want to add pizzazz.
~
The crumb, however, is typically made of brown sugar and butter with a little salt and maybe cinnamon thrown in, and there isn?t much variation on this theme. It can sometimes be made with shortening, but butter is typically preferred. Either way, we are talking BIG crumbs. This should not look like cornmeal or a dusting of brown sugar on top of a cake. This should not be a pea-sized smattering of crumb as you would see on top of a coffee cake ? which is also delicious, but not crumb cake. Crumb cake should have big nickel to quarter sized crumbs that you can pluck off with your fingers and eat by themselves.
This is one of the joys of crumb cake; a joy which is not to be denied by using a lesser crumb topping. 
Fresh Baked or Frozen
Crumb cakes, like most baked goods, freeze surprisingly well, so you don?t necessarily have to have it right out of the oven to have a good experience.
However, many bakeries along the East Coast do bake their own, so it?s worth it to, at least once in your life (or if you happen to be in the area), have some fresh baked crumb cake at a little mom and pop place on the Jersey Shore, in the heart of New York, or transplanted to one of the many beautiful destination towns along the coast. This, to answer the question at hand, is where all the best crumb cakes are to be had.
However, if you live in other parts of the United States (or the world), you could look for a good recipe and try baking your own. In lieu of that, there are also some East Coast bakeries which will ship these delectable confections, frozen, right to your door. Just let your cake sit out on a counter to thaw for two to three hours and, voila!, you have beautiful, authentic East Coast crumb cake just ready for you to indulge.
And yes, it is perfectly acceptable (and often preferred) to serve it with coffee. Just don?t call it coffee cake. 
Popular Savings Offers