Where to learn new things
By Catalogs Editorial Staff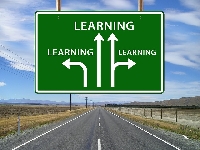 Do it, read it, try it, listen to it … find out where to learn new things!
When you were in school, it was easy. A teacher (or your mom, if you were homeschooled) decided what you would learn. And you probably just went along with it. 
But once your school days are over and you're out in the real world, the question of where to learn new things isn't so simple. Of course, it depends what you want to learn, but for most things, there are schools and classes and groups within reach almost anywhere. 
Here are some ideas for where to expand your skills, master something new, or just try out that new activity you always wanted do. Some are professional, some are just for fun, and some are…well, let's just say, I couldn't resist including them!
Before you continue reading about the Where to learn new things there is a special announcement we would like to share with you. Catalogs.com has negotiated special medicare rates for our vibrant community of seniors. If you are over the age of 60, you can head over to our Seniors Health Section which is full of information about medicare. All you need is your zip code and a few minutes of your time to potentially save 100s of dollars on your medicare bills.
Education Goes Virtual
In case you surfed into this article looking for ways to learn something to improve your career or expand your knowledge base, you might want to consider online or downloadable classes. They're a great resource for busy working people or over-stretched parents who don't have the time to drive to and from classes. 
Virtual classes range from formal college programs to classes for people who want to learn something more for the sheer joy of learning. With some searching, you can probably find a class or program to match your needs and budget. There are even classes on DVD or CD, so you can learn wherever you are, even without an Internet connection (great for those long plane flights!) 
Filling in gaps in your formal education is a wonderful way to expand your horizons. It can also give you more confidence in social and professional situations, where knowledge about history, the arts or other fields helps you become mor comfortable in the conversation.
One word of caution: if you're hoping to use your virtual classes to qualify for a specific new job, promotion or as a part of a degree program, make sure the school you select is fully accredited. Otherwise, you might have the knowledge but not the credentials you need. 
~
Studios and Creative Spaces

If you're looking for a more active kind of learning, you might want to check out music, dance or visual arts studios in your community. In most good-sized cities and towns, you'll be able to find things as diverse as hip-hop classes for seniors and belly-dancing for pregnant moms to basket painting (yes, I saw this as a real class! Not sure what it involved…I was laughing too hard to read further!)  
There are even an abundance of pole dancing classes and other more, um, colorful skill classes offered in private studios and community schools. 
Apprenticeships and Volunteering
When it comes to where to learn things, the old fashioned ways are best. Doing it. 
Volunteering with an organization or offering your help as an apprentice can be a wonderful way to add to your skills. Years ago (ok, maybe a century ago or more), children and adults alike learned their trades by apprenticing themselves to a master. Even thought it's not the norm anymore, it's still a great way to learn. 
Try talking to people in the field you want to learn, and asking them if you can help shadow them at their place of business, or watch them work in thier home, workshop, studio or garden. Many people will be honored that someone wants to learn from their expertise.
Read!
Sometimes the best way to learn is to pick up that book and read. Books have the advantage of being portable, reviewable, and, compared to many forms of education, quite affordable. 
Take advantage of the remaining bookstores in your area (they are sadly becoming harder to find) and browse the shelves. You might just find the perfect book to help you learn what you need to know. And if you walk around the store regularly, I'll bet you'll find a host of other things you're interested in learning about. 
Go to school
If all else fails, you can always go back to the beginning of your educational experience and enroll in school. Find a class or a degree program that appeals to you and go for it!  It's still one of the best ways to learn something new.
Popular Savings Offers