Where to order very special desserts
By Catalogs Editorial Staff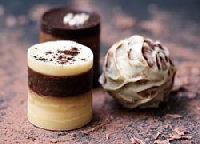 Plenty of choices for every palate
For special occasions, desserts often become a focal point, possibly because they are special treats all by themselves. Pairing a unique dessert with a memorable event often makes memories that last a lifetime. So, where do you go to order a dessert that is equal to your occasion? Surprisingly enough, there are many options available to you.
Ask Friends
Talk to friends and family about your event and ask if they have personal recommendations. Put their experiences to work for you to save yourself some time ? and you might come up with a dessert possibility that you hadn?t considered before. For instance, many people think of cake to celebrate life?s memorable moments. Take it a step further and look at tortes, cupcakes or pastries. You might come up with a unique item that people are sure to remember. Find out what some of their favorites are, maybe one will work for your occasion.
Before you continue reading about the Where to order very special desserts there is a special announcement we would like to share with you. Catalogs.com has negotiated special medicare rates for our vibrant community of seniors. If you are over the age of 60, you can head over to our Seniors Health Section which is full of information about medicare. All you need is your zip code and a few minutes of your time to potentially save 100s of dollars on your medicare bills.
Favorite Restaurants
Do you have a favorite restaurant where you order the cheesecake for dessert, no matter how full you might be? Or perhaps the Death by Chocolate cake from the Trellis Bar and Grill is your go-to favorite. After all, what chocolate lover would turn down a creation that takes three days to make? Some restaurants will let you order a whole cake or individual servings of their desserts for you to order ahead of time and then enjoy at home. 
~
Bakeries
Bakeries can simplify your life when it comes to special desserts. After all, it?s their business to make delicious confections to tempt every taste bud. Cakes in a wide variety of flavors can be filled with fruit, cream, mousse or frostings and finished with a personalized message.
To move beyond cake, consider rich caramel and nut tarts, truffles or other specialty items. During the holidays, a croquembouche always looks impressive. This dessert is made up of multiple cream-filled puffs assembled in a cone shape. Decadent caramel sugar is spun around the confection, giving it a heavenly look.
Go Online
Online ordering can be your best ally, especially if you?re pressed for time. Imagine a vivid assortment of French macarons, the airy cloud-like cookies sandwiched around a delicate filling that bursts with flavor. Many retailers will work with you to create the dessert of your dreams for your celebration.
How about handmade chocolates ? in only the flavors you and your guests will enjoy most. No more poking the bottom to check out the filling first! Incredibly enough, you can even get ice cream treats shipped to your door. Many are shipped in extra-thick insulated containers to stay completely frozen during the journey. Technology is a wonderful thing.
Other Options
If you?re having difficulties finding exactly what you have in mind, there is the option of making it yourself. Not a baker? No worries, use pre-made items and enhance them with your own personal touch. For instance, a purchased cheesecake can be topped with your own selection of fruits or sauces.
Alternatively, if you are handy in the kitchen order exotic ingredients for flavors to really wow your guests. How about paw-paw and passion fruit panna cotta. The paw-paw has a creamy texture and tropical flavor (similar to mango, pineapple and banana, with hints of vanilla and spices), making it a perfect addition to many desserts. The fruit doesn?t store well, which is why it can be difficult to find ? except online. Online you can find frozen puree and other items in this incredible flavor.
So, there you have it ? a few ideas on where to order very special desserts ? or the ingredients to make one yourself. Let your creativity guide you, along with the flavors that your guests love. Keep in mind any allergies, such as to nuts, dairy or even chocolate. With some careful planning, your event will go down in the record books ? and dessert will have its own page!
Popular Savings Offers