Which air gun should I buy?
By Catalogs Editorial Staff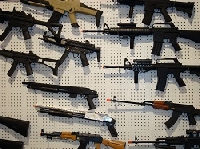 Buying the right air gun for you
If you have ever been interested in air gun shooting you have probably asked yourself at some point "which air gun should I buy?" Like every hobby or sport, there is a wide selection of equipment you can choose from – the problem is knowing where to start and what to look for.

Obviously, purchasing the right air gun for you depends on various factors, and what you are hoping to get out of air gun shooting.

Air Pistols

Before you continue reading about the Which air gun should I buy? there is a special announcement we would like to share with you. Catalogs.com has negotiated special medicare rates for our vibrant community of seniors. If you are over the age of 60, you can head over to our Seniors Health Section which is full of information about medicare. All you need is your zip code and a few minutes of your time to potentially save 100s of dollars on your medicare bills.

A pistol is a type of handgun, so this type of air gun is a lot smaller and lighter than an air rifle. Air gun shooting fans choose air pistols for a number of reasons: shooting at targets, playing in air gun or Airsoft events, purely for collection (pistols take up less room than rifles) and for simple air gun shooting fun with other enthusiasts. Air pistols that use a spring mechanism need to be cocked each time they are used, whereas Airsoft Electric Pistols (AEP) can offer fully automatic firing.

If you want a simple spring air pistol as a first buy, then you could do a lot worse than the Black 757 Spring Airsoft M9 Pistol. It has a range of 80 to 100 feet and is an inexpensive purchase if you want to be thrifty with your first buy. If you want to risk spending a bit more, heading for the $50-mark, then you might want to consider the 350 FPS Airsoft Colt Metal Slide 1911A1 .45 Pistol. This air gun is actually licensed from the famous firearm company Colt. The velocity of a shot can reach 350 feet per second and it has a range of 150 to 200 feet.

AEPs tend to be a little more expensive than the spring air pistols. A medium-level choice would be the Beretta Electric 92F Airsoft Blowback Pistol. This can cost as much as $75 although you can find it much cheaper on sale. This air gun is semi-automatic and is accurate to around 100 feet.

~

Air Gun Awareness

You should be aware of the legal framework that surrounds owning and shooting air guns, depending on what country or state you live in. The Law Center to Prevent Gun Violence has published a useful list of state-by-state laws.

Air Rifles

If you are looking for more accuracy in your air gun shooting habits then you may want to select an air rifle over an air pistol. Air rifles come in all sorts of shapes and sizes; from air sniper rifles to shotguns, spring UZIs to tactical rifles – there is an air rifle for every type of air gun shooting hobbyist.

For an inexpensive option, the UKARMS M16 Spring Airsoft AR Gun with Laser Sight and Quad RIS Rails is an option. At the time of writing, it is possible to find one of these air guns for less than $15. It has a tactical appearance that many air gun fans like, and it is accurate to 120 feet and over. The air gun is plastic though, but that helps keep its price down.

Unsurprisingly, rifles are generally a lot more expensive than air pistols. These items are for people who want to get serious about air gun shooting. Costing at around $130-$200 is the 565 FPS MB13 ASR SR-2 Modular Metal Bolt Action Sniper Rifle with Scope and Bipod. That sounds very technical, but basically what you would be getting is an air gun capable of firing at 565 feet per second and accurate to over 200 feet. You will definitely need to buy some targets for this one!

Finally, if money is no object, then you could show off with an ASW338LM Ashbury Precision Ordnance Licensed Full Metal Spring Sniper Rifle – for in the region of $460 to $950 (depending if it is on sale)! For this considerable amount you get an air gun that can hold 40 rounds, fire pellets at 394 feet per second, has a range of around 250 feet and it has been deliberately manufactured to look like the real thing (although fitted with an orange tip as legally required).

So Which Air Gun Should You Buy?

If you just want to find out about air gun shooting then it would be wise to start off with an inexpensive spring air pistol. For just a few dollars you can buy one and test it, practice with it, and discover air gun shooting at a slow pace before moving up to a more realistic and accurate AEP. If you want the air gun to look realistic you will have to pay more for one made from metal.

For social air gun events in the outdoors then an air shotgun could be an enjoyable option. These can be picked up at low prices, and they have a large holding capacity. However, if you decide to get serious about air gun shooting and pick up a sniper rifle for target shooting, then prepare to shell out hundreds of dollars for your air gun equipment.

(For more information about the basics of air gun shooting see here.)

Popular Savings Offers