Which bathtub suits your style
By Catalogs Editorial Staff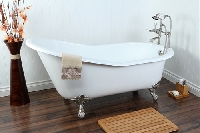 Your bathing preferences will determine which bathtub suits your style
Some people do not mind if their house or apartment doesn't have a bathtub. With others, it's a deal breaker. No tub, no sale. Bath connoisseurs of the world know the pleasure and importance of taking a long, relaxing soak.
Which bathtub suits your style? That depends. Do you like to submerge yourself in hot, sudsy water for an hour? Do you prefer a free-standing style (situated right smack dab in the middle of the bathroom) or something more conventional?
Do you have difficulty getting in and out of a tub but are determined to do it, until your dying day?
Your answer to these questions dictates which one is the right one for you.
Before you continue reading about the Which bathtub suits your style there is a special announcement we would like to share with you. Catalogs.com has negotiated special medicare rates for our vibrant community of seniors. If you are over the age of 60, you can head over to our Seniors Health Section which is full of information about medicare. All you need is your zip code and a few minutes of your time to potentially save 100s of dollars on your medicare bills.
There are two main types of tubs including eastern style, in which the bather stands up (defeating the whole purpose for many of us.) This kind is short and deep and is referred to as ofuro in Japan. A western style is long and shallow. The bather lies down. This is what most Americans are accustomed to. If you are going to stand up, you might as well take a shower!
What's Available
There are many styles. Consider the slipper style, where one end is raised and slopes, creating a more at ease lounging position. it actually looks a lot like a slipper. Other styles include the claw foot; the double ended tub, featuring rounded ends, and the pedestal, which does not have claw feet. It rests on a pedestal.
~
Whirlpool
What about a whirlpool? Talk about total indulgence. A jetted tub is ideal for those suffering from aches and pains. When a whirlpool is equipped with a PVC piping system this ensures mold, bacteria and odors do not build up, which can be a concern.

Claw Foot
A cast iron claw foot might be your preference. They look great and harken back to the 19th century, when it was considered a real luxury to have this kind of bathing facility. This style is extremely efficient when it comes to absorbing and transferring heat. The water stays warm longer than it does in other types. This style is generally bigger than others, so you will use more water.

Soaking

If you are a bath devotee, you may prefer a soaking version. It is shorter and deeper than conventional styles. Generally, there isn't a shower connection. This type can be circular, oval or square in shape.
Drop-in
A drop in version is the most common type tub. It is set in mortar within a frame. This supports the structure and hides the underbelly. This type can be sunk into the floor or used in peninsulas, islands or corners. It has a self-rimming edge.

Walk-in
If you are elderly or handicapped, you may require a walk-in. This version allows a person to literally walk into or even roll into the space. There is a low step-over threshold, a built-in chair and deep soaking dimensions. Just think, you do not have to give up your beloved nightly soak because of mobility issues or limitations.

Get Wild!
If you have privacy on your property, an outdoor tub is the height of indulgence. You can create your own little oasis right in the midst of your back yard. Imagine, lounging under the stars, soaking in your outdoor basin. Exquisite!
It's going to be tough making a decision but once you do you are going to derive hours of pleasure lounging in your one-of-a-kind tub, whether it is inside or out!
Popular Savings Offers
Steve's Wallpaper
Shop Now
Especially Yours
Free Shipping
Idol Lips Plumper
Shop Now
Whatever Works
Up to 60% Off
Designer Drapery Hardware
Free Catalog
Hampshire Pewter
Free Catalog
Container Store Garage
Free Catalog
Sierra Traditions for Men
Shop Now