Which classic car fits your style
By Catalogs Editorial Staff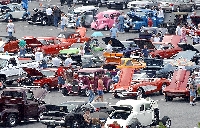 Here are some tips to decide which classic car is fits your style
Many drivers think that today's cars have no personality, or at least no style to fit their own personality. Classic cars, meaning those that were new at least 25 years ago, seemed to evoke more emotion in car enthusiasts. You were a Corvette guy or a Mustang man or even a Charger chick. Driving one of these classic cars today says something about you. But what? Let's look at which classic car fits your style.
If you're the kind of person who enjoys being pampered and likes to have the biggest and the best of everything, you may go for the classic Chevy Impala. The Impala was Chevy's most expensive passenger model until 1965. The Impala SS was the sporty performance version of this long and luxurious line that appeals to those who want performance and pampering in the same package.
You're economical on the outside but sporty on the inside? Small but with a big heart? Sounds like you're a Chevy Nova person. It started as the Chevy II in 1962 and the Nova nameplate took over in 1969. It was originally designed to compete in the compact car class but once the V8 option became available, the Nova turned into the original pocket rocket.
Before you continue reading about the Which classic car fits your style there is a special announcement we would like to share with you. Catalogs.com has negotiated special medicare rates for our vibrant community of seniors. If you are over the age of 60, you can head over to our Seniors Health Section which is full of information about medicare. All you need is your zip code and a few minutes of your time to potentially save 100s of dollars on your medicare bills.
~
You're tired of the practicality of the minivan and want a look that says, "It's just you and me and there's no room for three." The Ford Mustang was the first sports car of many baby boomers and is still one of the favorite classic cars. More pony than muscle, it's the style that says you can have a lot of fun without breaking the bank.
You think steroids are ruining sports and wish they would have stayed in sports cars? You want to feel muscular without all that sweaty gym stuff? A classic Pontiac Firebird could be your workout wheels. It followed the GTO and really brought muscle to the masses. The Trans-Am nameplate makes you feel like a race care driver while the Firebird's appearances in the Smokey and the Bandit films and Knight Rider TV series makes you feel like a Hollywood star.
If you're a rugged, larger-than-life type who likes power and admires working class heroes, a classic Chevy pickup truck may be the vehicle for you. The Advance Design was Chevy's first pickup after World War II and the best-selling model from 1947 to 1955. It was replaced by the Task Force, which had the hooded headlights for those who prefer a more menacing look. For the bigger-is-always-better types, the C/K pickup from the 60s puts you above the crowd.
Popular Savings Offers
You can spend a lot of time trying to decide which classic car fits your style. Or you can get the car first and let its style influence you. Whichever way you go, both you and your vehicle will be classics.