Which gemstone is best for me
By Catalogs Editorial Staff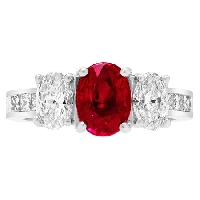 Gemstones give your look meaning and pizzazz if you choose them right
Deciding on a particular gemstone can depend upon a lot of factors. Is this a stone you will wear all the time, like a wedding ring or some other sentimental piece of
jewelry
? Or are you looking for something to go with a particular outfit or your complexion and hair color? Let?s explore the options.
Color Me Pretty
When trying to match a colored gemstone to a particular outfit, decide which gemstone is right for you by whether you are going for a subtle complement or something more striking. Warm colors, like a red ruby or yellow topaz, are nice complements for yellow-gold or an outfit with reds, yellows, or oranges. On the other hand, cool colors like blues and greens (think sapphires and emeralds) pair perfectly with white-gold and silver, as well as clothing in the same tones.
Before you continue reading about the Which gemstone is best for me there is a special announcement we would like to share with you. Catalogs.com has negotiated special medicare rates for our vibrant community of seniors. If you are over the age of 60, you can head over to our Seniors Health Section which is full of information about medicare. All you need is your zip code and a few minutes of your time to potentially save 100s of dollars on your medicare bills.
However, if you want something that stands out and catches the eye, flip the script and go for an opposite approach. Mix a stunning green emerald with an outfit in oranges and reds. Wear deep red emeralds with black or green. Here, contrast is what makes a piece stand out.
~
When choosing jewelry to go with your complexion or hair color, the rule of contrast is usually the best strategy–especially if the piece is going to be close to your face, as in earrings or a necklace.
Pink sapphire earrings can get lost on a red head, while blues and greens (peridot, perhaps?) shine. Blondes are in a similar predicament, though here it?s the yellower tones that fade out while reds and blues can both feature prominently. Darker hair colors and complexions have a little more wiggle room ? they can pull off a set of blood-red garnets just as well as a royal purple amethyst.
Just keep in mind, the darker the complexion or hair, the bolder you want your accessory hue. 
Very Superstitious ? Symbolism and Sentiment
If the piece you are considering is an everyday wear piece, and is at all sentimental ? a wedding ring, mother?s ring, bracelet to commemorate a certain life event, etc. ? symbolism will rule above everything else. The most obvious choice is to go with your own birth stone. Most months have more than one stone to choose from, if you don?t care for your primary stone. Then, for a mother?s or grandmother?s ring, you would choose the birth stones of your children or grandchildren. 
For a wedding or engagement ring, if you don?t want to go with the standard diamond (or want an accent for the diamond), rubies are an excellent choice. They are the color of love and passion, and are among the hardest gemstones available. For every day wear, they will stand the test of time better than most. You might also choose amber, which symbolizes marriage, love, and stability and will definitely buck the diamond trend. 
When searching for a piece to commemorate a particular life event, like a graduation or other achievement, look up a list of stone meanings to find something which fits with that particular vocation or transition.
And don?t be afraid to look into semiprecious stones for variety. Malachite is a stone of protection and leadership, so would be a great choice for someone in law enforcement or who just received a promotion which puts them in charge of other people. Onyx represents discipline and self-mastery ? a possible gift for someone practicing martial arts or your yoga instructor? 
There are so many colors of gems to choose from, the best rule of thumb is this: do not overthink it; choose what you like and narrow it down from there. If a stone catches your eye and delights you more than the rest, you will not regret your decision. 
Popular Savings Offers