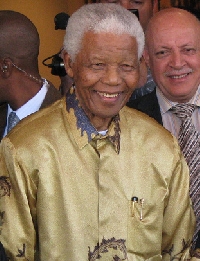 Nelson Mandela: South Africa's great emancipator.
How many people can truly claim to have changed for the better the lives of an entire nation? The list is short, and includes giants of history like Washington, Lincoln, and King. Nelson Mandela has a place in that company. He led South Africa from the darkness and oppression of apartheid into a proud place in world society.
Mandela was born in South Africa in 1918, son of a chief of a local tribe. He went to law school and then served in his nation's government as a member of the African National Congress. In 1948, the ANC passed and began enforcing apartheid, a set of laws segregating blacks and whites throughout society and providing blacks lower quality in education, health care and many other areas. From the beginning, Mandela, who reflected upon his life in his autobiography The Long Walk to Freedom, was a leader of those opposed to the system, and spent most of his life fighting for freedom and equality.
~
South Africa's white-dominated government regarded Mandela and his supporters as a threat, and acted to suppress them. Mandela was repeatedly accused of treachery and other crimes, From 1962 until 1990, he was imprisoned, but all efforts to quash his influence failed. Even from prison, he was considered a leader of the anti-apartheid movement that gained momentum as the years went on. Other countries joined in boycotting South African sports and cultural events, and in economic sanctions. Mandela spoke out as much as possible, and refused many offers of release from prison in exchange for backing down politically.
In 1990, with the world climate changing, and racism on the decline in many places thanks to movements led by Martin Luther King and others, Mandela finally walked out of prison a free man. He stepped to the front of a wave of change. He won a Nobel Peace Prize in 1993 and in 1994, was elected President of South Africa, after a free election was finally allowed. He pushed for racial unity during his term, and retired in 1999. Thanks in large part to him, South Africa is again a popular destination for tourists, many of whom will visit this beautiful country with a sports travel package during the world's most-watched sporting event, soccer's World Cup, in 2010.