Why buy made in America?
By Catalogs Editorial Staff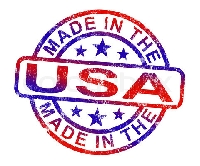 Wondering why buy made in America? Here are some good reasons
Consumers often consider a number of factors when making purchasing decisions, including brand reputation, quality and most of all price. Buyers on a budget understandably reach for lower-priced items before considering where they were made. There are a number of reasons to pause before bypassing American-made products.
Shopping local makes a difference
Wondering why buy made in America? Consider the positive impacts of your purchase: Supporting a company that employs people in this country fuels the economy and prevents more manufacturing and service jobs from being shipped abroad. The more jobs, the more people earning a livable wage who can also buy American goods, supporting more companies.
Before you continue reading about the Why buy made in America? there is a special announcement we would like to share with you. Catalogs.com has negotiated special medicare rates for our vibrant community of seniors. If you are over the age of 60, you can head over to our Seniors Health Section which is full of information about medicare. All you need is your zip code and a few minutes of your time to potentially save 100s of dollars on your medicare bills.
You may not always find a locally-made equivalent on the shelves of big box stores or usual places you shop. A number of these American made products are manufactured by small, independent businesses that don't have the same wide distribution as large corporations that have their goods made abroad. Fortunately, many of these US companies sell their goods online and ship them all over the country. A great example of made-in-America craftsmanship is Rock-it Creations, a company that designs and engraves beautiful USA-sourced rocks and stones for keepsakes, gifts, and memorials.
Buying American made products supports other industries, too, like those that sell die cutting supplies, manufacturing parts, even janitorial services and worker uniforms or safety equipment. There is definitely a trickle down effect that your dollars have on US based businesses.
Supporting the local economy and jobs are huge incentives, but they're not the only answers to why buy made in America? Spending your money wisely helps restore manufacturing in this country. Large corporations take note when consumers choose locally-made and some have even moved their manufacturing back to the US. The more a nation is able to produce themselves, the more independence they have.
~
Safer, cleaner standards
It's no secret that foreign manufacturers don't hold working conditions, materials and quality to the same high standards as American regulations. Low safety standards results in products that contain poisonous substances. For example, many toys shipped to the US are made with dangerous levels of lead ? not exactly what you want children sticking in their mouths.
Buying these cheap items potentially supports unsafe worker conditions and child labor. While workers in the US receive at least a minimum wage that allows them to cover basic necessities, workers abroad either earn an unbelievably low minimum or are protected by no minimum wage standards at all. Impossibly low prices are often a reflection of a foreign company's lack of standards and willingness to exploit its workers.
US processes are also environmentally cleaner than those in many other countries. Buying things made in the USA keeps the planet healthier. Not buying imported goods also helps reduce the fuels used to ship or fly them over. These items are gifts that do good –  it's a win-win! 
Investing in the future
Compare the effects of supporting foreign-made goods to those of supporting those made in the USA. The first column is a lengthy list of negatives while the former is all positive.
US companies may not be able to match low price points, so they compete by offering superior products made from quality materials in safe working conditions by people who earn a livable wage. The more consumers who support these endeavors, the more opportunities there will be for both people who need manufacturing jobs and entrepreneurs looking to set up shop locally.
If you've had one of those light bulb moments when you have a grand idea for a needed product that doesn't yet exist, you may be a future entrepreneur or even an inventor. The American dream is rooted in the belief that anyone who works hard can provide for their family and improve their quality of living in time.
Every time you buy USA made goods, you're supporting somebody's dream and helping to open doors for people like yourself in the future. Next time someone asks why buy made in America?, the simplest response may be ?Why not??.
Popular Savings Offers