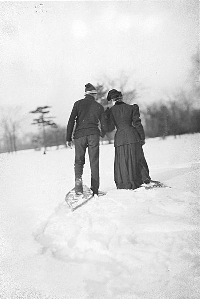 Winter fragrance has unique qualities for the season
Temperatures drop and most of us stop thinking about ocean breezes or plucking a fresh blossom from the garden. Fragrances should reflect how a woman feels or wants to feel.  For winter fragrances, this means warmth, exotic spices and intense, bold scents to brighten up any dreary day.
While it?s never necessary to take a perfume bath, cooler temperatures make it possible to wear slightly heavier scents. This is because the sun literally cooks perfume, changing how a fragrance smells on your skin. Plus, the nose is less sensitive in winter.
New fragrances are introduced every year, but the characteristics that define a winter fragrance remain the same. Rich, sensual, woodsy and musky are a few key terms that will help narrow the search. Whether you?re buying a perfume for someone special or considering a departure from your signature scent, you have a range of options that will make you feel super sexy beneath that winter coat, elegant when you?re waddling through a slushy parking lot or simply like the brightest star on a frosty night.
Words can be deceiving and confusing for a perfume buyer. Since winter fragrances typically have more depth than summer scents, you can expect most to have a combination of characteristics. For instance, a holiday perfume may have an undertone of vanilla with notes of clove, cinnamon and other spices that elicit nostalgia for rich seasonal desserts.
~
If you?re reluctant to put away those refreshing summer bottles, Envy me is a light winter choice. Envy me by Gucci contrasts sensual hints of jasmine and peony with the lightness of litchi and pineapple, mellowed with woods and white tea. This description may sound like overkill, especially if you imagine equal parts of each, but fragrances are more complex than that. Scents are layered to complement each other so the overall result is subtle, sweet and just a little fruity.
Women often choose a fragrance that?s representative of their personality and lifestyle. Sporty gals who typically opt for the body splash of something breezy in summer may prefer a woodsy, earthy winter fragrance. On the high end, Donna Karan?s Chaos Eau de Parfum features lavender, herbs and rustic woods, but you can also find classic sandalwood scents mixed with essential oils like orange or eucalyptus for under $10 at Pacifica Perfumes.
Now don?t forget that some of the most seductive fragrances smell best in winter. The warmth of Chanel No 5 can do no wrong with a light dab behind the ears. Opium by Yves Saint Laurent is another classic with its blend of myrrh, jasmine and vanilla. On the floral side, Very Irresistible Givenchy has the intriguing, highly feminine scent of five types of roses, verbena leaf and star anise.
Finding the right fragrance can be challenging any time of year. Before you start sniffing, tell a sales associate you?re looking for a winter fragrance and name two or three characteristics that sound appealing: musky, woodsy, rich, spicy, sensual, sweet and exotic are just a few. Try out your top picks and choose the one that almost makes you wish for a long winter. Almost.
Resources:
The Independent: The Ten Best Winter Perfumes
Diva Village: Best Winter Fragrances