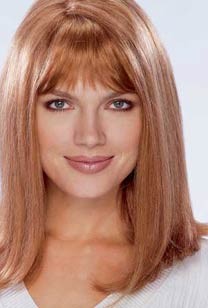 Make your hair red-carpet ready.
Have you ever wondered how the celebrities walking the red carpet get their hair to look impossibly thick and full? Well, for many of them, it's not even their hair. While some stars are blessed with tons of naturally thick hair, others get a little help from hair pieces, extensions and clip-ins that make them look like they are sporting naturally luxurious, voluminous manes. 
Unlike in the past, celebrities are now unabashed about wearing hair extensions and wigs to change their looks from day-to-day or when they're attending a big event. Thanks to their candor, hair piece accessories have become popular with everyone who wants to look different and modernized, or just complement their current hairstyle.

And because no one should try out that new hairstyle right before an event, hair extensions and pieces are a trendier?and safer?alternative to a drastic cut. They're now viewed as hot fashion pieces for girls and women who want to change their look in an instant without scissors or potentially damaging hair dye.
The Latest in Hair Accessories
Whether you're getting ready for prom, a pageant or dance recital, it's easy to add style to your hair without getting a haircut if you're familiar with the basics behind the new hair accessories. Hair extensions, pieces and wigs have come a long way since your grandma's teenage beehive. Wigs have been embraced as acceptable and even necessary accessories. There are thousands of styles and colors to choose from depending on your face shape and coloring.
Full Wigs
Wigs today are incredibly lightweight and can be made from real human hair or synthetic material. There are advantages to each type. Real hair wigs and pieces can generally be more expensive?not always?but they can be styled in different ways. Synthetic pieces are normally pre-styled and hold their shape so you don't have to do a lot to maintain them. You can wash them without having to restyle them. However, both real and synthetic can be styled and cut any way you wish.
The advantage to wearing a full wig is the ability to experiment with different hues and color trends. When mom won't let you permanently dye your hair fiery red, orange or pink, a wig is the perfect temporary compromise. Full wigs let you go blond bombshell one day and jet-black-emo the next.

Another easy option is the headband wig, which covers all your existing hair. With a headband attached to the front, these full wigs are great if you're in a hurry and want to completely change your color. 
 ~
Clip-ins and Three-quarter Wigs
A clip-in wig is not quite a full wig and allows your hairline to show, giving you a more integrated look. Clip-ins are a good choice if you want to add volume to the top of your head, but you should make sure the color matches your own hair so it looks realistic. There are half-wigs that give you a full, bouncy ponytail of curls or alluring bangs where you had none before.
Hair Extensions
Practically every celebrity's secret weapon, hair extensions have technically come a long way. They are now much easier to use on thin or very short hair and can be applied without breaking the strands. No longer glued or weaved in, they are clipped onto your natural hair with tiny combs and are easily removed. They're a great way to add length and volume to your hair, especially if it's fine.
Hair extensions can be used for a couple of hours or they can be left in for months. They come in any color you can think of, as well as curled or straight, accessorized with jewels or naturally plain. If you have a special event, such as prom, you can use hair extensions to showcase special colors or styles. Having a little help with extensions also makes it easier to style your hair into formal up-do's and other elegant looks.
Whether you want to completely transform or just complement your existing look, you can add style to your hair without getting a haircut or damaging it with permanent color. And with so many options in the new hair accessories, you could change your hair every day for the next three years and still not duplicate a look. For your important event, using hair extensions or pieces gives you peace of mind that your hair is going to look great the entire time.