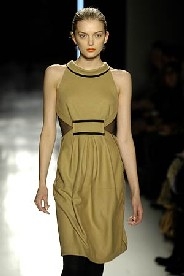 These top designers of women's clothing are starting today's trends.
While most fashion designers have a men's line, it's the women's clothing designers who get the most attention. After all, fashion is mostly a feminine domain. Bags, shoes, accessories, plus size dress apparel, haute couture, evening and day wear – these are the building blocks of women's fashions. Knowing who the top women's clothing designers are is essential to following today's trends.
Marc Jacobs
Marc Jacobs is an American clothing designer. He attended an art and design high school in New York City, and then attended Parsons School of Design, also in New York, where he designed a line of hand knit sweaters. He has designed for Perry Ellis, Marc Jacobs (his own line), and is now the creative director at Louis Vuitton.
Vera Wang
Vera Wang is the hottest name in wedding gown design. Wang attended the Sorbonne in Paris and Sarah Lawrence College in New York. She trained as a figure skater, but after a failed Olympic attempt entered the fashion design industry. Wang has worked for Vogue and Ralph Lauren, and is best known for wedding and evening gowns. She also continues to design costumes for figure skaters.
Kate Spade
Kate Spade was born Katherine Brosnahan in Missouri. After studying journalism, she worked for Mademoiselle magazine. In 1993, Kate Spade started her own design line, featuring handbags. She is now one of the top names in fashion accessories, including handbags, shoes, coats, pajamas, and personal organizers.
~
Donna Karan
Donna Karan is another designer who attended Parsons School of Design. After Parsons, she worked for Anne Klein, and remained on as head of design until the late 1980s. She went on to found her own label, Donna Karan New York, and has designed for A-list celebrities, like Barbra Streisand.
Anna Sui
Yet another designer from Parsons School of Design, Anna Sui is an American designer. She is known for not only clothing design, but fragrance, cosmetics and accessories as well. She has branched off into junior and children's design.
Zac Posen
Zac Posen is an American designer who started designing while still in high school. After attending Parsons School for Design, he worked with The Costume Institute of The Metropolitan Museum of Art. He also studied with the University of the Arts in London. He now has his own studio, and is known for designing gowns for major players in Hollywood, including Liv Tyler, Kate Winslet, Cameron Diaz, and Helen Mirren.