Furniture to work from home or in the office
By Catalogs Editorial Staff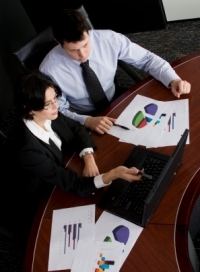 Setting up your office is fun if you plan it out first.
Your office, whether it's at home or in a corporate building, is the backdrop to your professional image. Much like your business cards and personal appearance, your office space and the furniture within it present an image of who you are to others.
If you work from home and meet clients there, it's especially important to have an area that is professional and well decorated. Choosing the best furniture to work from home or in the office begins with good planning. Here are several things to consider when you're choosing the right office furniture for your space.
Before you continue reading about the Furniture to work from home or in the office there is a special announcement we would like to share with you. Catalogs.com has negotiated special medicare rates for our vibrant community of seniors. If you are over the age of 60, you can head over to our Seniors Health Section which is full of information about medicare. All you need is your zip code and a few minutes of your time to potentially save 100s of dollars on your medicare bills.
Determine Your Personal Tastes and Identity
What style are you most pleased by and comfortable with? Do you want ultra-modern with adjustable features everywhere or are you more of the traditional type who needs a large corner computer desk? Take your lifestyle into consideration as well. Do you need to be wireless and mobile or are you more focused sitting in the same place all day?
If you work from home, you already have a clue as to how you can decorate your office space just by looking around the rest of the house. Bringing in elements from the house will create a cohesive style throughout. However, if your office has its own distinct style and personality, it helps you 'leave' the house behind even though you only crossed your living room to get there.
The Most Important Parts of Planning
Budget
It's important to have your furniture budget figured out before you make any kind of purchases. Know what you have to spend. Determine what furniture pieces are essential based on the type of work you do and equipment you need. Start with those and build from there.
Measurements
Measuring correctly is of utmost importance, even if you think you can 'eyeball' it when you get to the store. You can't. Take good measurements of the floors, walls, windows, closets and doors. Don't forget to measure the wall spaces from the bottom of the window to the floor as well. Write your measurements down and remember to bring them with you.
Some other helpful things to note include the location of the power outlets, how much lighting is in the room and how much storage space you need. If there is no storage in the area, are you going to need extra cabinets or shelves? Take into consideration the type of work you will be doing and what kind of materials you will be storing.
 ~
Choosing Your Furniture
After you've determined your style and taken your measurements, choosing furniture to work from home or in the office should be a fun experience. With so many choices, you can pick from complete, elaborate desk sets or modular pieces you can configure and add to later. Some of the questions you should consider are:
— What is the size of your equipment? For example, how big is the CPU and the monitor? Will this change in the future?
— How much storage exists already and how much do you need to create?
— What supplies will you be using on a regular basis? Where will you be storing them?
— How much desk space do you need to write, work on files or operate the computer?
— What areas, surfaces or equipment need to be adjustable?
In addition, the office chair you choose will be one of the most important items you purchase. On average, we conduct up to 90 percent of our work sitting down. This makes a comfortable, adjustable, supportive chair a must-have if you want to prevent injuries, enhance performance and reduce fatigue.
Ultimately the best furniture creates a working environment that's pleasant, organized and comfortable. Planning beforehand and making sure your furniture choices are logical and stylish will enhance your professional image and make your office a pleasant place to work.
Popular Savings Offers