Catalogs.com Departments

News & Articles

Keyboard Gig Bag - Same Day Music
A keyboard gig bag is perfect for toting your instrument
The serious keyboardist needs a keyboard gig bag to protect his instrument when traveling from gig to gig. Which one is perfect for you?


Traveling the world - For the musician who travels round the world, professional quality gig bags are a must. Details like padded interiors, folding hard sides and a shoulder strap on the back make these bags true keyboard luggage.... read more


This catalog is currently out of stock.


Please search through our categories for another catalog.


- or -

Shop for keyboard gig bag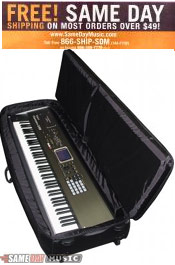 More About Keyboard Gig Bag - Same Day Music:
Other great Same Day Music departments:
Carry everything you need - With a roomy, world traveling keyboard gig bag, you'll have enough space to store not only your keyboard, but music notes, books, power supplies and cables. Adjustable straps make it easy to customize your fit.
Fits any size keyboard - The right keyboard gig bag for you has to fit your instrument. Sizes range from micro to fit smaller keyboards, to deluxe to securely hold full-size keyboards. Lightweight bags won't weigh you down, but still have the necessary padding to protect your keyboard.
With the range of choices you get from Same Day Music, choosing the perfect keyboard gig bag to transport your instrument will be easy.