Catalogs.com Departments

News & Articles

Desk Top Organizer - Stacks and Stacks
Desk top organizer systems for a tidy desk
Using a desk top organizer system for your home or work office makes it simple to keep your desk tidy.


Keep clutter at bay - Using a desk top organizer is a smart and easy way to maintain a clean desk. Hutches, recipe boxes and paper filing systems hold papers and notes in one place, keeping your desk clutter-free.



Space saving ideas - Stackable organizing bins and vertical magazine files save precious desk space, making your desk look that much neater.... read more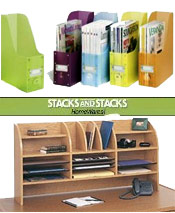 More About Desk Top Organizer - Stacks and Stacks:
Other great Stacks and Stacks departments:
Clear acrylic organizers allow you to see what's in each drawer at a glance.


Become more efficient - When you don't have to search for items on an untidy desk, you find what you need quickly. Use paper organizers and compartment desk organizers to keep everything in its place.
Desk top organizer systems for work or home - Recipe boxes, mail sorters and catch-all boxes will keep a kitchen desk neat, while wooden desk organizers look smart in the office.
Let Stacks and Stacks help you get your desk in order with a desk top organizer in any style.