Catalogs.com Departments

News & Articles

Fun Presentation Ideas - Trainer's Warehouse
Fun presentation ideas keep your audience interested
Need to prepare for a big presentation and want to really "wow" your audience? Then try the variety of fun presentation ideas from Trainer's Warehouse that are sure to get everyone in on the action!


Instead of a bland presentation that no one will remember afterward, give your audience something to think about. Use these fun presentation ideas to spark your imagination and creativity beforehand and then use them during your talk to engage your listeners.... read more


This catalog is currently out of stock.


Please search through our categories for another catalog.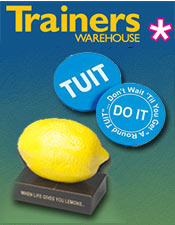 More About Fun Presentation Ideas - Trainer's Warehouse:
Other great Trainers Warehouse departments:
Squawking rubber chickens, top banana awards, energy balls, jumbo playing cards, high five hands and more are just some of the ways you can really make your presentation come alive!


Create an exciting atmosphere with fun presentation ideas. Use props as metaphors for bigger themes or use them to get your audience to participate. When people are engaged in an activity, they're much more interested and likely to remember what you have to say. Spark discussions with foam bricks, squeezable debriefing sets, throwable fish, a mic and clapper set and so much more!
Your next talk will be talked about for a long time to come when you incorporate fun presentation ideas that everyone will enjoy.