Fun Teamwork Games - Trainer's Warehouse
Fun teamwork games build confidence and morale
Do you need to get office staff together or build morale? Do you wish there was a way to get everyone to work together while having fun at the same time? There is a way -- using fun teamwork games will improve communication and cooperation.


Team building exercises are a great way to increase motivation among employees. Instead of tedious presentations that will only bore them, try fun teamwork games that engage them in activities with their coworkers.... read more


This catalog is currently out of stock.


Please search through our categories for another catalog.


- or -

Shop for fun teamwork games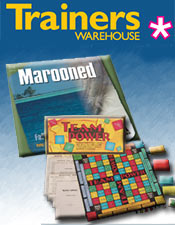 More About Fun Teamwork Games - Trainer's Warehouse:
Other great Trainers Warehouse departments:
They'll have a blast while improving their communication skills with games like a portable electric maze, giant dominoes, fiddlestix or jungle escape.


Fun teamwork games are wonderful business tools that just about any industry can use to foster a friendlier environment. Have everyone sport a name button to create a comfortable atmosphere and then let the games begin! Murder mystery games, card games, pick up sticks and community puzzles are just a few of the ways everyone can come together in the spirit of working together to achieve the same end.
Trainer's Warehouse has a great selection of fun teamwork games that will bring players together long after the fun is over!