Catalogs.com Departments

News & Articles

Journals or Diaries - Day Runner
Journals or diaries are for personal or business use
Diaries are for far more than recording mundane day-to-day details. Journals or diaries can also be used for business purposes, especially for busy professionals who want to organize their thoughts and ideas for important presentations and projects. Now you can choose personal or professional journals or diaries for your particular needs.


Journals or diaries for everyone - For students, moms, dads, executives, teachers or anyone who wants to jot down ideas, plans and thoughts in one convenient place.... read more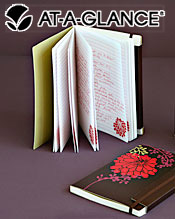 More About Journals or Diaries - Day Runner:
Other great Day Runner ® departments:
Standard diaries are great for a work environment. Keep track of business expenses, daily tasks, future planning ideas and much more. Professional journals are perfect for businesspeople who need to organize their creative ideas for important projects and reports.


Personal journals make great gift ideas - Do you know someone who loves to record their personal thoughts in decorative journals? The personal journals you'll find at Day Runner feature attractive covers that make thoughtful gifts for any special occasion, including Mother's Day, Father's Day, birthdays, Valentine's Day and more! Treat those you love to these beautifully decorated journals that are made to hold precious thoughts.
One for work, one for home - Use standard diaries or professional journals for the office and keep a personal journal for home use. You'll find these books well-suited to your particular needs. Now you can stay organized and put all of your unique ideas in one place for easy reference. Keep one (or more) at the office and one at home. A traditional look is great for work, while a designer option is perfect for your style at home. The choice is yours!
With so many options in journals or diaries, you'll find it easy to record all of your essential tasks, chores, dates, meetings, thoughts, creative ideas and so much more!