Personal Daily Planners - AT-A-GLANCE
Personal daily planners help keep you organized
Never miss an important meeting or appointment again with personal daily planners that will plan your day down to the very hour!


You can be a busy, high-powered executive or a domestic home manager. It doesn't matter what you do; what matters is that get it done. Personal daily planners are incredibly useful tools that will help you stay on schedule, whether you have to attend meetings, school functions, conferences, or any other occasion that demands your presence.... read more


This catalog is currently out of stock.


Please search through our categories for another catalog.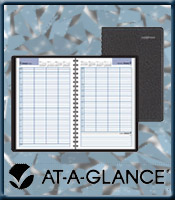 More About Personal Daily Planners - AT-A-GLANCE:
Other great AT-A-GLANCE ® departments:
Don't rely on your memory when a planner can keep track of your urgent business for you.


Choose personal daily planners in a range of sizes: pocket size is perfect for slipping into a purse or suit pocket, while large size planners provide more room if you have many events to schedule. Whether you're a small business owner, corporate executive or administrative assistant, anyone can be organized! Map out days, weeks or months in advance and be on time and prepared for anything.
AT-A-GLANCE provides personal daily planners perfect for a range of professions and needs, just what you need to stay on top of your busy life!