Catalogs.com Departments

News & Articles

Stress Relieving Toys - Trainer's Warehouse
Stress relieving toys are great for releasing pressure and stress
No matter how much pressure you're under, you can use stress relieving toys to release the pressure and get you on the track to working effectively again.


You can be a high-powered executive, kindergarten teacher or stay-at-home dad. Anyone can get stressed out during the workday. Instead of losing your cool, use stress relieving toys to give you a break from high-pressure demands.... read more


This catalog is currently out of stock.


Please search through our categories for another catalog.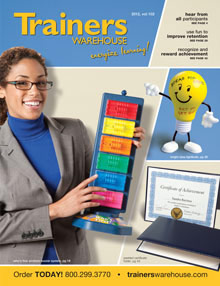 More About Stress Relieving Toys - Trainer's Warehouse:
Other great Trainers Warehouse departments:
Squeezable DNA balls, spots n' dots balls, squeezable brains or eye balls allow you to take your frustrations out on their durable skins. Squeeze to your heart's content and let go of stress at the same time.


Few things relieve stress like a smile or laugh, so use fun stress relieving toys to get you grinning again. A Smile Star looks so friendly that you can't help but smile back. Put some nostalgia in your day with colorful slinky toys, just like the ones you played with as a kid. Don't blow your top when the pressure gets to be too much. Use these stress relieving outlets to channel your energies into something fun and carefree!
Trainer's Warehouse has a huge variety of fun props and gadgets perfect for the workplace, including stress relieving toys that you can turn to when your tension level gets too high.