Catalogs.com Departments

News & Articles

Stylish Day Planners - Day Runner
Stylish day planners are great ways to plan your day
You're always on the go and you need to stick to a plan to make sure you don't miss a thing. Stylish day planners are a great way to ensure you never miss an important date, meeting, appointment or birthday! You can plan your day down to the hour or you can be more flexible with the wide selection of planners you'll find at Day Runner. Ready to get organized?


Stylish day planners keep you organized - Whether you're a busy executive, soccer and den mom, college student, professor or anyone whose days are full of activities, these planners help you stay on track.... read more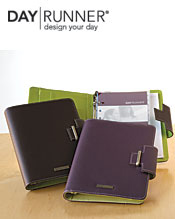 More About Stylish Day Planners - Day Runner:
Other great Day Runner ® departments:
Use them depending on your unique needs. Do you need to plan practices, reports or vacations? Whatever you need to keep track of, day planners are here to help.


Never miss an important event - With stylish day planners to record every little detail, you'll never have to worry about missing important dates ever again. Birthdays, business trips, meetings, games, exams, recitals -- you can plan it all in your day planner! See what's coming up weeks or even months in advance so that you're never surprised or caught off guard.
You'll love these attractive options - You'll find planners to meet any style and personality, including simple and traditional designs or modern and contemporary. The choice is yours! In colors like basic black, brown, red, tan, purple, blue and more, you'll love the way these planners look and keep you organized. Not only will you enjoy organizing your busy days, you'll do it all in a stylish way!
Now you can be sure to always keep your appointments. When staying on schedule is as important as your personal style, stylish day planners do the job of organizing your life in an attractive way!